Nike has entered the fitness tracking and measurement space with a user wearable wristband that tracks a user's daily activity and uses a Nike-developed metric called NikeFuel to analyze your overall activity and oxygen burned.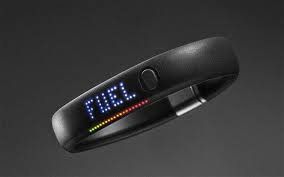 There is a growing market for connected activity tracking product, including Motorola Mobility's MotoActv and Jawbone Up as the most direct competition for this, but also varied other products including those using Ant Wireless' Ant + such as the range of tools from Garmin and products that are platform specific like iBike.
The Nike+ FuelBand, slated to be released by the end of next month with a $150 price tag, includes a bracelet that the user wears. It features a three axis accelerometer that measures activity, primarily information such as the number of steps a user has taken, the time and distance.
The band has an option of four different metrics to chart: Time, Calories, Steps and NikeFuel. NikeFuel is a newly developed fitness metric from the company that is designed to convert the results based on the motion and the estimated oxygen burned a user can see what their daily activity totals and instead of giving a calorie count that might have large variables according to the persons' size, sex and shape NikeFuel is a normalized score that awards equal points for the same activity regardless of physical makeup.
The wrist band has a set of 20 built-in LEDs that range from red to green and provide a user with an instant update as to where they are in relationship to their daily goal. This goal is set by the user and they can set it for either total activity of how much NikeFuel they wish to achieve. Each day's activity is reset at midnight back to zero.
The company has been developing feedback products for some time in the runner category with Nike Plus but this time it is expanding out from that field with a platform that is designed for any type of activity. In addition the NikeFuel feature is a step up for the data that athletes had been able to gather in the past with Nike products. The company will provide NikeFuel feedback for its existing Nike Plus products at some point n the future.