Stadium Tech Report is pleased to announce our Summer 2021 issue, which includes an in-depth profile of the new Wi-Fi 6 network upgrade at the Colorado Rockies' Coors Field, which will host the Major League Baseball All-Star Game this July. Planned ahead of the pandemic, the Coors Field network upgrade includes new equipment from Cisco and some innovative design and deployment tactics from integrator AmpThink, the Colorado Rockies and MLB. With a full house expected for the July 12-13 events, Coors Field is ready to go from a Wi-Fi connectivity standpoint, including coverage at the new McGregor Square area adjacent to the ballpark.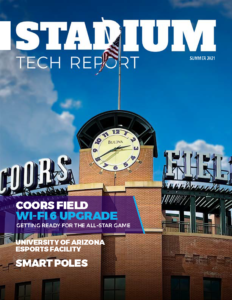 We also have a profile of a new esports facility deployment at the University of Arizona, done by a new firm called 1337 Facilities, which is led by stadium technology veteran Bob Jordan. One more story looks into the possibilities presented by smart poles, which can bring connectivity and other technology features to parking lots. Take a read and tell us what you think!
If you are reading on a desktop or tablet, you can view all the stories in our web magazine format.
We'd like to take a quick moment to thank our sponsors, which for this issue include Corning, Boingo, MatSing, Cox Business/Hospitality Network, American Tower, CommScope, AmpThink and Belden. Their generous sponsorship makes it possible for us to offer this content free of charge to our readers. We'd also like to welcome readers from the Inside Towers community, who may have found their way here via our ongoing partnership with the excellent publication Inside Towers.