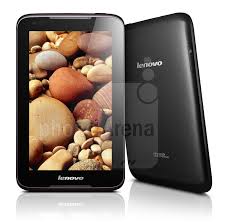 If you are ever wondering how news services and even blogs get advanced information about upcoming products it is often because the devices have to go through approval at the FCC, which has to make the records of approvals public. The forthcoming Lenovo A1000 is no exception.
The A1000 is no secret, the company talked about it and two additional tablets last month at the Mobile World Congress in Barcelona, but the fact that it is now getting approval to be shipped into the U.S. shows how close the device is to reaching the market.
The low-cost 7-inch tablet is an entry level device that the company is targeting at two different groups, first time buyers and music enthusiasts. When Apple hit the market with its iPad the market quickly responded with a list of me-too offerings, few of which gained any sales. The entry level was particularly weak as everybody compared the devices to the iPad.
Now the market has started to mature and people have a much better idea of what they want a tablet for and are starting to understand the differences that different price points represent in terms of display size, processor capabilities, storage and other features.
One of the key differentiators on the A1000 is its audio, which features Dolby Digital Plus and the large front facing speakers as part of its attempt to appeal to music fans. The tablet runs the Android Jelly Bean 4.1 operating system and is powered by a 1.2GHz dual-core processor. It will ship with 8GB or 16GB of storage that is expandable to 32GB with a micro-SD slot.
There are a few features that the company has not yet released such as screen resolution. Pricing has also not yet been released and that will be key as the 7-inch space has been heating up and is expected to quickly catch up to the 10-inch display space. The other two tablets that were discussed last month, the 10.1-inch S6000 and the 7-inch A3000 appear to be further out but both are expected in the second quarter.