According to figures provided by Extreme and the University of Florida, the network saw more than 51,000 unique connections during the game day, out of 90,584 in attendance, approximately a 56 percent "take rate." A story on the Floridagators.com website said the data totals from Saturday's game (a 24-13 win by Florida over previously undefeated and No. 7-ranked Auburn) "swamped" the previous high Wi-Fi mark of 6.94 TB at a home game against Tennessee two weeks ago. The total put Florida into the top 10 on the unofficial MSR "Top 27" list for single-day Wi-Fi marks, squeezing past Super Bowl 51 to claim the No. 10 position.
Figures provided by Extreme said 1.3 TB of traffic was seen before kickoff, and there was a high throughput mark of 9.4 Gbps. The average bandwidth consumed per connected user for the day was approximately 232 Megabytes, and according to the Floridagators.com story the top three applications used were, in order of usage, Snapchat, Instagram, and Facebook.
MSR is planning to visit "The Swamp" later this season for an in-person look at the new Wi-Fi network, work on which was started in 2018. According to the Floridagators.com story the network has approximately 1,100 access points, with many of those in the seating bowl using an under-seat deployment method.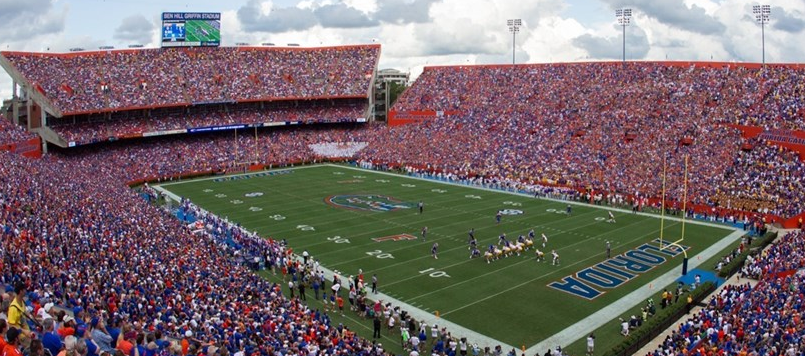 THE MSR TOP 27 FOR WI-FI
1. Michigan State vs. Ohio State, Ohio Stadium, Columbus, Ohio, Oct. 5, 2019: Wi-Fi: 25.6 TB
2. Super Bowl 53, Mercedes-Benz Stadium, Atlanta, Ga., Feb. 3, 2019: Wi-Fi: 24.05 TB
3. NCAA Men's 2019 Final Four semifinals, U.S. Bank Stadium, Minneapolis, Minn., April 6, 2019: Wi-Fi: 17.8 TB
4. Super Bowl 52, U.S. Bank Stadium, Minneapolis, Minn., Feb. 4, 2018: Wi-Fi: 16.31 TB
5. Miami (Ohio) vs. Ohio State, Ohio Stadium, Columbus, Ohio, Sept. 21, 2019: Wi-Fi: 13.7 TB
6. NCAA Men's 2019 Final Four championship, U.S. Bank Stadium, Minneapolis, Minn., April 8, 2019: Wi-Fi: 13.4 TB
7. Florida Atlantic vs. Ohio State, Ohio Stadium, Columbus, Ohio, Aug. 31, 2019: Wi-Fi: 13.3 TB
8. Cincinnati vs. Ohio State, Ohio Stadium, Columbus, Ohio, Sept. 7, 2019: Wi-Fi: 12.7 TB
9. 2018 College Football Playoff Championship, Alabama vs. Georgia, Mercedes-Benz Stadium, Atlanta, Ga., Jan. 8, 2018: Wi-Fi: 12.0 TB*
10. Auburn vs. Florida, Ben Hill Griffin Stadium, Gainesville, Fla., Oct. 5, 2019: Wi-Fi: 11.82 TB
11. Super Bowl 51, NRG Stadium, Houston, Feb. 5, 2017: Wi-Fi: 11.8 TB
12. Pittsburgh Steelers vs. New England Patriots, Gillette Stadium, Foxborough, Mass., Sept. 8, 2019: Wi-Fi: 11.58 TB
13. Atlanta Falcons vs. Philadelphia Eagles, Lincoln Financial Field, Philadelphia, Pa., Sept. 6, 2018: Wi-Fi: 10.86 TB
14. Super Bowl 50, Levi's Stadium, Santa Clara, Calif., Feb. 7, 2016: Wi-Fi: 10.1 TB
15. Taylor Swift Reputation Tour, Gillette Stadium, Foxborough, Mass., July 27, 2018: Wi-Fi: 9.76 TB
16. Minnesota Vikings vs. Philadelphia Eagles, NFC Championship Game, Lincoln Financial Field, Philadelphia, Pa., Jan. 21, 2018: Wi-Fi: 8.76 TB
17. Jacksonville Jaguars vs. New England Patriots, AFC Championship Game, Gillette Stadium, Foxborough, Mass., Jan. 21, 2018: Wi-Fi: 8.53 TB
18. Taylor Swift Reputation Tour, Broncos Stadium at Mile High, May 25, 2018: Wi-Fi: 8.1 TB
19. Kansas City Chiefs vs. New England Patriots, Gillette Stadium, Foxborough, Mass., Sept. 7, 2017: Wi-Fi: 8.08 TB
20. SEC Championship Game, Alabama vs. Georgia, Mercedes-Benz Stadium, Atlanta, Ga., Dec. 1, 2018: Wi-Fi: 8.06 TB*
21. Green Bay Packers vs. Dallas Cowboys, Divisional Playoffs, AT&T Stadium, Arlington, Texas, Jan. 15, 2017: Wi-Fi: 7.25 TB
22. Stanford vs. Notre Dame, Notre Dame Stadium, South Bend, Ind., Sept. 29, 2018: 7.19 TB
23. (tie) Southern California vs. Notre Dame, Notre Dame Stadium, South Bend, Ind., Oct. 21, 2017: 7.0 TB
Arkansas State vs. Nebraska, Memorial Stadium, Lincoln, Neb., Sept 2, 2017: Wi-Fi: 7.0 TB
24. Tennessee vs. Florida, Ben Hill Griffin Stadium, Gainesville, Fla., Sept. 21, 2019: Wi-Fi: 6.94 TB
25. WrestleMania 32, AT&T Stadium, Arlington, Texas, April 3, 2016: Wi-Fi: 6.77 TB
26. Wisconsin vs. Nebraska, Memorial Stadium, Lincoln, Neb., Oct. 7, 2017: Wi-Fi: 6.3 TB
27. Super Bowl 49, University of Phoenix Stadium, Glendale, Ariz., Feb. 1, 2015: Wi-Fi: 6.23 TB

The new Wi-Fi network at the University of Florida's Ben Hill Griffin Stadium saw 11.82 terabytes of data used during Saturday's home game against Auburn, a new high-water mark for the Extreme Networks-powered network in "The Swamp."