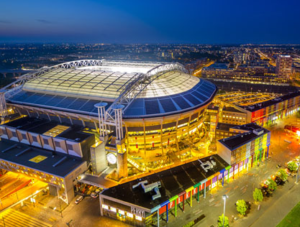 Amsterdam looks like the place to be for connectivity information next week, especially so for the world of stadium networking with the Connected Stadium Summit on tap Nov. 7-8 at Amsterdam ArenA. Some familiar faces like Jeff Lutes of the Orlando Magic are among the scheduled speakers, along with what looks like a good mix of speakers with topics ranging from DAS and Wi-Fi deployment issues to digital fan engagement and broadcast as well. See below for the organizers' information links about agenda and free passes for stadium and venue operators, as well as a discount for MSR readers.
The Connected Stadium Summit, the only event focused on enhancing customer experience and future-proofing technology investments is coming your way in one week! Taking place this November 7th – 8th, the event will gather leading organisations in the connected stadium space from the likes of Orlando Magic, Amsterdam ArenA, Feyenoord, Deutsche Telekom and more to connect, learn and share ideas together,

We've created a snapshot attendee list, highlighting who you can expect to meet and exchange business cards with. Check out the agenda here and we guarantee you will be in good company.

Free passes for stadia, telecoms operators and venues available here. Alternatively book a delegate place and receive a discount with VIP code MSR20.