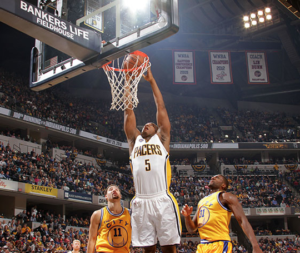 The Indiana Pacers have signed a 3-year deal with Ruckus Wireless and Wi-Fi analytics and deployment firm Purple to put a new Wi-Fi network into Bankers Life Fieldhouse, the home of both the NBA's Pacers and the WNBA's Indiana Fever.
The new network, which the firms said would use 437 Ruckus Wi-Fi APs, will replace a Wi-Fi network installed at Bankers Life Fieldhouse by SignalShare, a Wi-Fi deployment firm that recently went bankrupt in the middle of legal issues that alleged fraudulent practices. According to Ruckus, the new network should be live by early December; stay tuned for a more thorough profile of the new deployment.
So far, all of the teams that we've contacted who were caught up in the SignalShare snafu (under which some of the network leases were being offered for auction before the SignalShare bankruptcy put a halt to things) seem to be coming out of the mess OK. The Jacksonville Jaguars have a new manager for their Wi-Fi network, and the Pacers will have a new Ruckus-gear network.
It's still a little unclear as to what is happening at the Golden State Warriors' Oracle Arena, but press representatives there said the building will have an Extreme Networks Wi-Fi deployment up and running for this season; previously, SignalShare had run the network using Extreme gear so our best guess is that Extreme somehow took over the SignalShare lease. Neither the Warriors nor Extreme would comment on any SignalShare matters.
In Indianapolis, the press release said that Purple, previously known as Purple WiFi (a "cloud-based marketing and analytics WiFi software company," according to the firm), will be providing analytics from the Wi-Fi network to the Pacers. Terms of the deal were not diclosed, so it is unknown if Purple is paying for the Wi-Fi gear and making money off analytics and advertising sales; again, stay tuned for more details when we speak to the Pacers IT team in more detail.