Editor's note: The following team-by-team capsule reports of MLB stadium technology deployments are an excerpt from our most recent Stadium Tech Report, THE BASEBALL (And Soccer!) ISSUE. To get all the capsules in one place as well as our featured reports, interviews and analysis, download your free copy of the full report today.
UPDATE: This version fixes the report for Milwaukee's Miller Park.
NL Central
Reporting by Paul Kapustka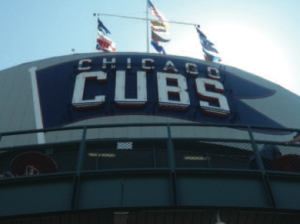 Chicago Cubs
Wrigley Field
Seating Capacity: 41,160
Wi-Fi – No
DAS – Yes
For those hoping to use Wi-Fi at Wrigley Field, it's "wait until next year" as the ongoing stadium renovations have forced the team to suspend the Wi-Fi services it had previously installed.
Look for an enhanced Wi-Fi and DAS network next season at the Friendly Confines (which now has outfield video boards)
St. Louis Cardinals
Busch Stadium
Seating Capacity: 50,345
Wi-Fi – No (under construction)
DAS – Yes

Finally, Wi-Fi is coming to Busch Stadium, with plans to have the MLB- installed network live sometime after the All-Star break but before the end of the season.
Milwaukee Brewers
Miller Park
Seating Capacity: 42,200
Wi-Fi – Yes
DAS – Yes (two systems)

Free fan Wi-Fi went live at Miller Park on opening day this season (April 6, 2015). The network was built as part of the MLBAM initiative; there are 600 APs covering all areas of the ballpark and ticket gates. Miller Park also has two DAS deployments, one a neutral host DAS run by AT&T that also currently carries Sprint traffic, as well as a standalone DAS for Verizon Wireless.
Pittsburgh Pirates
PNC Park
Seating Capacity: 38,496
Wi-Fi – Yes
DAS – Yes
One of the most-loved facilities in baseball, PNC Park, is now Wi-Fi enabled thanks to your friends at MLBAM.
Cincinnati Reds
Great American Ball Park
Seating Capacity: 42,036
Wi-Fi – Yes
DAS – Yes
Though it already had some Wi-Fi, Cincinnati's Great American Ballpark is getting a network upgrade this season thanks to MLBAM, which wants the park to be uber-connected for this summer's All-Star Game.