New for the app as a special treat for fans at the Coors Light NHL Stadium Series event is a "live, crowd-generated light show" experience, using technology from Baltimore, Md.-based Wham City Lights that synchronizes smartphones to produce a mass lighting effect. The app feature will, according to the NHL and the Levi's app producer VenueNext, "blanket the stadium with a synchronized, multi-colored visualization of the live musical entertainment on the field," if of course enough fans download the app and activate it at the right time.
Just like Niners fans this past football season, hockey fans at Levi's Stadium on Saturday will be able to download the free app and use it to watch live streaming video of the event, as well as instant replays from several angles. Fans can also use the app to purchase parking tickets and get directions to the stadium as well as their seating section once inside the venue.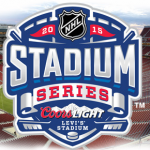 What will be interesting to see is if hockey fans generate more wireless data usage than football fans, a possibility since hockey has two natural built-in mid-game breaks as opposed to football's halftime. Since the event is also more of a "bucket list" type game than a regular-season football game, the possibility exists that Sharks, Kings and general hockey fans in attendance may break the previous Levi's data record set at the Niners' home opener. Stay tuned to MSR next week, when with any luck we'll get wireless usage stats from the Levi's Stadium network team.

Other than mobile ticketing, all of the regular features of the Levi's Stadium mobile app will be active for Saturday's outdoor hockey game between the San Jose Sharks and the Los Angeles Kings, with fans able to use the app over the free Wi-Fi network or the enhanced cellular DAS to do things like watch instant replays, or to order food, drinks and merchandise and have those items delivered to every seat in the 68,500-seat venue.