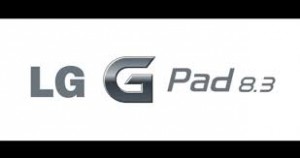 The fall tablet rollout continues as LG delivers the details of its LG G Pad 8.3 as the company seeks to establish itself as a contender in the small to midsized tablet space with an offering that should start hitting stores later this month.
The tablet, originally shown at IFA in Berlin last month, has an 8.3-inch display with 1920 x 1200 resolution but LG worked hard to keep the bezel small enough so that the tablet could be easily used in one hand. It is powered by a Qualcomm Snapdragon 1.7GHz quad-core processor.
It features 2GB of RAM as well as 16GB of storage that can be expanded to 64GB via a microSD card It has a 5MP rear facing camera and a 1.3MP front facing camera. It runs on the Android 4.2.2 operating system release.
The company plans to release the tablet in the U.S. in the upcoming weeks according to reports and then follow that up with a European launch. It is expected to be first available next week in Korea but pricing for the U.S. model has not yet been announced.
The release of the G Pad 8.3 puts the company directly in competition with the growing number of developers cashing in on the demand for the smaller than 10-inch tablets with high quality smaller form factor offerings.
One of the top complaints against the 10-inch and larger models is that they are too cumbersome to use with one hand and need steady support for use, something that is not an issue with the smaller models.
Apple's new iPads are expected later this month, the actual date of introduction is still a point of speculation at this time. Others that have refreshed already include leaders such as Amazon and Google.
Then of course there are lower cost models, usually ones with a lower resolution screen, less storage and fewer other bells and whistles, which does not mean that they have no role in this market, just not in a heads-up competition with the top of the line offerings.
There is also the growing corporate space where much larger storage is seen as a must. It will be interesting to see how the market segment breaks out going forward and if one tablet will suffice to work in all spaces or if it will be broken down by both size and market segment, with different leaders in the differing areas.