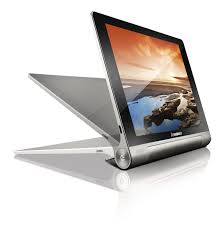 Lenovo has expanded its Yoga family of tablets and has added some interesting features that seek to differentiate them from others in this rapidly growing market with a trio of modes that they can be used in ways that the company believes fit customer usage needs.
The latest editions are 8-inch and 10-inch models and one of the key features is the three modes: hold, tilt and stand. The hold mode is for use when being held and includes a cylindrical handle that allows a user to use just one hand to hold the tablet, rather than the two that most 10-inch and large tablets require.
To engage the stand mode simply turn the handle 90 degrees and the stand will deploy, and can be adjusted from 110 degrees to 135 degrees. The tilt mode is for when the tablet is lying flat or in a user's lap. The tablet has software that brings up the most commonly used apps in each mode.
There are other additions that make the tablets interesting. They have an 18-hour battery life, far exceeding most others that are in the 10-hour range. The new Lenovo tablets get the longer life by using laptop batteries cleverly stored in the handle. They also have the ability to charge other smartphones and USB devices via a USB on-the-go feature.
The two Android tablets feature displays that have 1280 x 800 resolution, a 5MP autofocus rear camera and a 1.6MP front facing camera. They are powered by a 1.2GHz MT8125 quad core processor and have 16GB of storage that can be expanded to 64GB via an optional microSD card. Other features include a pair of front-facing speakers with Dolby Digital Plus DS1. The tablets are expected to be available by week's end and the 8-inch model will have a $249 MSRP and the 10-inch will have a $299 MSRP.
While none of the additions to the tablets on their own are earth-shattering the combination makes a very nice offering that helps the company create separation between its products and many of its rivals, who often seem to just deliver me-too products.