Last fall ESPN rolled out a new stat that it claimed would be the be-all and end-all in quarterback ratings called the Total Quarterback Ratings or (QBR). The company said that it went much further than other rating systems by adding in such important features as how clutch the performance was.
Now fast forward a year and use of the number has fallen off a cliff at ESPN. A good look at this is provided by The Classical which provides a good overview of the inner workings of how QBR is figured. I guess they can put this next to the last attempt at creating its own stats – Productive Outs in baseball.
Samsung wins another round vs Apple
A Dutch court has ruled that Apple's multitouch patent was not infringed on by Samsung last week. The Court of The Hague ruled that the patent that describes technology that prevents smartphone users from pushing two on-screen buttons at the same time is not the same as the technology that Samsung does use in its Galaxy products.
As part of the ruling the court has ordered Apple to pay Samsung court costs, which are in excess of $422,000, according to CIO.com. Where this leaves the overall case, with each player winning and losing versions of it around the globe is anybody's guess.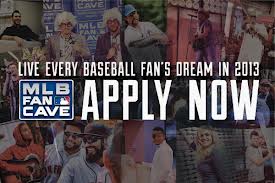 MLB taking applications for 2013 Fan Cave
If you think that the Fan Cave contest is a waste of time consider the case of Ashley Chavez, Ricardo Marquez and Kyle Thompson who are all at the current World Series and one will be declared Fan Cave Champion.
Sound interesting? Well it is too late for this year obviously but MLB is accepting applications for 2013 to be part of the "Fan Cave." After the application process is closed there are elimination rounds and then a final lineup of nine fans. Did I mention they also went to the All Star Game this year?
Miscellaneous earnings reports
Earnings reports were in and it was a very mixed bag. HTC reported sales down 23% from previous quarter to $2.4 billion and said that it expects a weaker Q4 at approximately $2bn. Samsung however saw a huge spike in sales of its Galaxy that helped it set a new all time highs in sales and profits, driven by an estimated sale of 56 million smartphones in the quarter. It had net profit of$ 5.9 billion.
Apple reports 24% increase in earnings at $8.2bn and a 27% increase in revenue at $36bn, and disappointed Wall Street. The company said that it shipped 26.9 million iPhones in the quarter and was still heavily backlogged. Amazon when back into the red for the first time in four years when it reported a $274 million loss on sales of $13.81bn. The company took a $169 million write down on its stake in Living Social, a daily deal site.
Cost of Instagram deal drops
When Facebook purchased Instagram for an estimated $1 billion in April quite a few in the market were astounded at the price tag. Now that the dust has settled, and the deal paid for, the price tag has dropped quite a bit.
According to a filing at the Securities and Exchange Commission Facebook's final cost for the deal was $715 million that consisted of $300 million in cash and 23 million shares of stock. The original price was based on Facebook's estimated $30 per share stock price, pre-IPO.
Looking for a great crash video? Red Bull has the answer
Here is a video taken from the helmet cam of extreme mountain biker Cam Zink taken during an attempt to cross a 68-foot canyon. Guess how he fared.

Is RIM, among others, doomed?
Digi Times is reporting that due to mounting losses Research in Motion may be broken up and sold to other high tech companies. This is not that really surprising if it happens, its management has said in the past that all options are on the board and the company's losses continue to mount.
What is surprising is that the article goes on to say that both Nokia and Motorola may also be on the chopping block for exactly the same reasons, even though Motorola is now owned by Google. I suspect that Google will want to keep the patents at the very least.