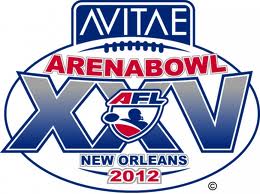 The Arena Football League playoffs start this week with some returning powerhouses and new up-and-comers as the league continues to make a nice recovery after being left for dead a few years back when it ceased operations.
I have a number of friends that deride the league as bush league but in the few games I have attended I really enjoyed myself. It features very high scoring and continuous action. The short field and odd rules really make it a great viewing spectacle, especially in person where it is an inexpensive yet fun time.
For the first round of playoffs, which will see games played on July 27 and 28 there will be eight games, two apiece in each conference. In the National Conference the San Antonio Talons, founded this year, against the Utah Blades in one set while the other will feature the Arizona Rattlers against the San Jose SaberCats, one of the oldest established teams in the league.
Over on the American Conference side the first week matchups will include the Philadelphia Soul against the New Orleans VooDoo and in the other match there will be the Jacksonville Sharks against the Georgia Force.
The winners from both conferences will meet the following weekend for the conference championships and the week after that is the Avitae ArenaBowl XXV to be held in New Orleans with a 10:30 pm ET kickoff. So New Orleans could have a home field advantage if it manages to win out. Some games will be broadcast on the NFL Network while others will be available online at www.ustream.tv.
Just for those that do not know, the AFL was founded in 1987 and played until the economic downturn of 2007 forced it to dissolve. It was reformed in 2010 and has been playing since with 17 teams in two conferences of two divisions each. The season is 20 weeks long with two bye weeks.
What makes it interesting to me is the field. It is 85 feet wide, 50 yards long and has a 3-yard end zone. Eight players per team and they have four downs to move the ball at least 10 yards. Scoring is a bit wide open with six points for a touchdown with one point for a conversion by place kick, two points for a conversion by drop kick and two points for successful run or pass after a touchdown.
Three points for a field goal by placement or four points for a field goal by drop kick. Missed kicks can be returned by the opposition and a safety is two points. Interesting note is that the AFL is the second longest running football league in the United States, after of course the National Football League.