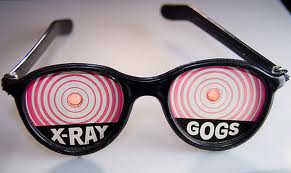 A while back we mentioned that Google was developing glasses in an effort named Project Glass that would provide real time feedback for users-well it seems that they are not the only one and Oakley is in tests with technology that could rival Google's efforts.
Oakley executives said that they have been working on connected eyewear since 1997, which makes them quite the visionaries, and that the technology that they are developing would be compatible with Google's Project Glass.
The basic specs that it indicated it was working with would call for glasses that have a built-in features as well as the ability to connect wirelessly, via Bluetooth, to a smartphone, with the possibility to it supporting voice commands. In the past the company has released glasses that have an MP3 player, and the product line is still on the market under the name of Thump.
Initially Oakley sees this type or product being marketed at athletes and possibly the military as well. It has some patents related to this area among it's over 600 patents and has said that it is willing to license them.
I suspect that rather than being a rival to Google's efforts Oakley seems like a prime candidate as a partner, licensing the software and adding its own on top. I can see this taking off in sports, and also leagues passing rules to ban them. It would be a great advantage to a golfer if his glasses gave him all of the breaks or a baseball batter whose eyewear helped identify what type of pitch had just been thrown.
The more I think about it the more I think I would enjoy all of the potential chaos that this type of product would bring to professional sports.
It should be noted that you can already get glasses that provide real time feedback, or rather goggles, if you are a skier, since there are several options already available. Recon Instruments, a startup in Vancouver, it markets a technology called Micro Optics Display (MOD) and is designed for use in skiing goggles. It is an adjustable, color widescreen micro LCD that provides real-time information to the athlete such as speed, GPS location, jump airtime, vertical and total distance traveled, temperature, altitude and time.
While not quite the same as what Oakley and Google are developing I think it shows that this type of technology is nearing mainstream and will likely expand into a wide variety of applications going forward.