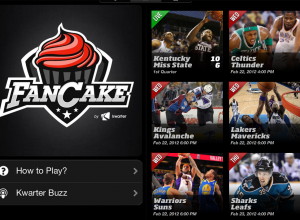 Kwarter, a San Francisco-based startup that is focused on developing mobile apps that will serve as a melting pot that blends social media, sports viewing and fan interaction has delivered its first product, FanCake, just in time for March Madness.
FanCake boils down the essence of what many fans do today using multiple applications and technologies. FanCake combines it all into a single app. Instead of tweeting groups, texting individuals and logging into the Internet to follow individuals, make predictions and look up trivia, it is all here, and more.
The company touts the app as having the ability to turn a televised sporting event into a interactive event with connected fans around the country. Fans can focus on players or teams and compete by predicting the next play, among other activities. The app will support all of the games during the Men's NCAA Hoops March Madness tournament and will have an in-app contest for participating fans with a variety of FanCake related awards available.
Create your own 'Game Rooms'
There are several components to the FanCake app. Possibly first and foremost is the creation of game rooms. A game room is a chat room and one can be created for each FanCake event. This is where the fans interact with each other. They are all public venues and while in one, information on the live game as well as contests will be broadcast in all game rooms, keeping everyone up to date on what is going on.
It features a live, in-game leader board that has storable features enabling fans to find or focus on information that is relevant to them. Click on any player and it is a live button that reveals details about the individual.
The overall goal of FanCake is to not just to create online communities built along team, player or sporting events, but also around fan participation and the creation of fan communities that actively interact with each other. The app is fully integrated with Facebook and Twitter.
The free app is now available and is available at Apple's iTunes store for iPod Touch, iPad and iPhone users.
Kwarter has managed to deliver the app in a relatively short time and with minimal outside investment, receiving $950,000 in seed money in October 2011 as its sole infusion. The company is led by co-founder and chief executive officer Carlos Diaz who has founded three previous startups and served as CEO at all of them, including Kwarter. The other two were Reflect Digital Agency that was acquired by Emakina group in 2007 and BlueKiwi Software in 2006. Sam Hickmann is co-founder and head of product at Kwarter and has worked at several other startups including peetch.com and twit, both as CEO.