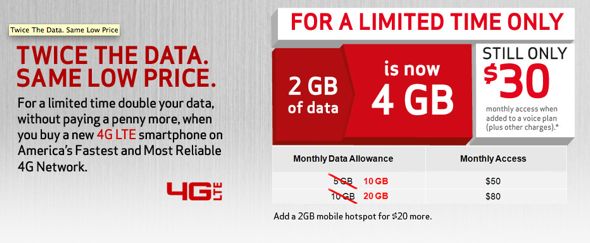 If you are in the market for a 4G phone, here's an early Christmas present — Verizon Wireless is currently offering double the downloadable data for its 4G LTE phones, the devices that run on Verizon's new, speedy Long Term Evolution-based network.
Due to its exclusive deals like NFL Mobile, which allows it to offer live NFL games to its cell phone customers, Verizon is a leader in the mobile-sports world but previously we wondered if customers might chew right through their monthly data plans by watching a full live NFL game or two. While we still don't have a definitive answer on how much data you use watching live video, at least now you can get twice the buffer for the same price.
At the top end, Verizon Wireless has an $80 per month data plan that used to get you 10 GB of data, and under the new promotion it will get you 20 — which should be more than enough for all your live-sports video needs. There are lower pricing and data tiers as well. Verizon also has the widest selection of 4G phones, including the new Motorola Droid Razr, as well as some models introduced earlier this year (like the well-received HTC Thunderbolt) which can now be had at reduced prices.
Verizon Wireless also offers exclusive coverage of the NHL, as well as local apps for NFL teams like the Chicago Bears and the Buffalo Bills. While we would still prefer that cellular providers give you real unlimited data plans, those days are mostly gone. For sports fans, Verizon's double-data promotion is a good deal if you are in the market or ready to upgrade.