Broadcaster seeks to grow success from LSU vs Alabama Game
CBS Sports, coming off a very strong viewership of its live streaming broadcast of the LSU vs Alabama game several weeks ago is now touting its live streaming of the game between #3 Arkansas vs. #1 LSU as well as broadcasting the "Iron Bowl" between #2 Alabama and #24 Auburn.
The event will follow a familiar format for viewers that have experienced previous broadcasts from CBS Sports. The game will be broadcast live at CBSSports.Com/SECLive and for users of iPads, iPhones and iPod Touch I can be found by using the CBS Sports Mobile app.
The games between all of these top ranked teams has the extra incentive for the teams in they all compete in the same division and so that the winner will capture the SEC West Championship, a sure stepping stone to a top BCS Bowl game.
The LSU game will be played Friday, Nov. 25th at 2:30 ET while the Alabama/Auburn Iron Bowl game will be played Saturday, Nov.26th with a starting time of 3:30 ET. Both games will be followed by the "5th Quarter with Gary Danielson", an interactive show that is available at cbssports.com/gary or can be followed on Twitter at @DanielsonCBS.
The LSU vs Alabama game, which pitted a #1 vs. #2 drew 214,560 viewers to its online broadcast earlier this month. The number includes an impressive 42,912 viewers who partook via a mobile device and the sites CBS Sports mobile app for Apple iOS devices.
While the game was touted as a game of the century, as if we don't get on of those every year, it was a bit of a disappointment. Missed opportunities coupled with missed field goals left an unsatisfactory feeling for many fans.
Still CBS Sports said at the time that it believed it to be the biggest audience to watch college football on-line, although ESPN claims that it has the title from the National Championship game last year that was broadcast on ESPN3 and drew 690,000 viewers.
It will be very interesting to see how the attendance for this game compares to the first. All of the SEC fans that I know are among the most fanatical football fans I know. Yet the first game was not quite what it was billed to be in terms of scoring and excitement. Will the fact that so many are traveling this weekend spur additional mobile viewership or will it detract? Just have to wait until Monday to see the numbers from CBS to see how it pans out. From there it would be nice to see this as a growing trend in the industry.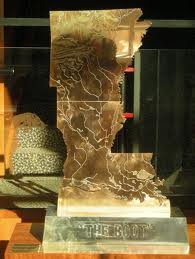 One question for fans of either LSU or Arkansas. Is the game still officially called "The Battle for the Golden Boot"? I did not see any mention of it this week.