Editor's note: While some people still think there is room to debate whether Twitter matters or not, many participants in the sports arena have already fully embraced the microblogging service and are already using it to a business advantage. Here are five sports-business outlets MSR editors already see using Twitter to a great advantage, for self-promotion, fan engagement and as a way to stay in the front of the competition.
1. Jim Rome (@jimrome) and The Jim Rome Show: Clone input, Sports Bro-mance and a quick way to follow

To the "clones" who call in to his
popular radio show
, Jim Rome is known by handles like Van Smack, Romey, and many other permutations. But the one trending in popularity is
@jimrome
, the official Twitter address for both Rome and his show, due to both Rome's adept adoption of Twitter culture as well as an out-front business decision to use Twitter to drive traffic and increase audience engagement.
As someone whose show has a motto of "have a take, don't suck," it is probably no surprise that Rome & Co. excel at Twitter's short-message format. Even when he's not on the air Rome brings his brand of "smack" to sports via @jimrome, typically best when there is a big nighttime TV event where he can chime in on Twitter with a Rome-flavored take second after it happens.
Rome also uses Twitter actively to promote the show, tweeting links to audio clips from guest visits, a great way to engage an audience outside of those who listen live. Rome also salutes, links to and promotes guests and other sports figures on Twitter, especially relevant as more and more professional athletes use Twitter as a sort of public/private communication channel.
And both the radio show and the ESPN show encourage listeners and viewers to engage with Rome via Twitter, reading tweets on the air and using them to help select topics to cover each day. True to the confrontational nature of the program you can get "run" if your take happens to suck but in sports and Twitter that is part of the fun of playing. By fully embracing Twitter as just another way to take "a call," Rome and the Jim Rome Show are giving themselves an excellent chance to ride the Twitter bandwagon to bigger audiences and better business. With just more than a half-million Twitter followers, @jimrome is clearly out in front.

2. ESPN: Everyone in the Twitter Pool



While it's no surprise that ESPN is all in when it comes to Twitter, we have to say that there are two surprising uses of the service that might seem at odds with ESPN's overall business plan: First, the network apparently has few restrictions on what its reporters can post on Twitter, which can raise questions about where ESPN breaks news — on its own site, or on Twitter? Second, ESPN has fully embraced Twitter as a way to bring viewer comments into its shows, even broadcasting Tweets with Twitter handles — which could seem at odds with ESPN's own user registration system, which conceivably drives business by getting people to consume more ESPN content.
Though we haven't had the chance to sit down with anyone at ESPN yet to hear whether or not such strategies are debated, it's pretty clear that ESPN is not letting its own business concerns keep it from also benefiting from Twitter's groundswell among sports fans. And by allowing its "talent" like Adam Schefter and John Clayton to post volumnous updates on Twitter at the very least ESPN is keeping its brand at the forefront of Twitter simply by letting its reporters do what they do best — deliver breaking news and analysis. Points to ESPN for doing Twitter first and leaving the business stuff to figure out for later.
3. Verizon Wireless: Twitter 'chats' Promote NFL Mobile Service
Even if you don't have a Verizon Wireless cellphone and therefore can't use the company's NFL Mobile service, you can still get on the Verizon bandwagon thanks to Twitter, where the company regularly hosts "chats" or live Twitter conversations with NFL athletes as a way to promote the service. No way to tell whether or not Verizon's Twitter chats are helping sell any more iPhones or HTC Thunderbolts, but at the very least Verizon is doing a perfect job of using Twitter to leverage its exclusive cellphone agreement with the NFL to establish its brand as a fan-enabler. That can't hurt when it's time for Twitter followers to upgrade their mobile device.
4. Tour Tracker: Using Technology to Bring Twitter Users Along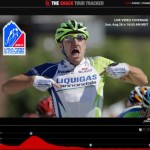 For bicycle racing fans who weren't near a TV there was no better way to follow some of the best action this past summer than via the Tour Tracker application, which was licensed and sponsored for some events by team sponsor Radio Shack. What made the Tour Tracker (or "Shack Tracker") especially cool during events like the Quizno's U.S. Pro Cycling Challenge was the app's ability to incorporate fan tweets on the fly — a great way to use technology to bring fans closer to the event and to bring a layer of community to the coverage that simply hasn't been available before. At MSR we expect to see more Twitter incorporation during 2012 — perhaps even a live Twitter crawl during a major event? If so pioneers like Tour Tracker will reap rewards for paving the way.
5. San Francisco Giants: A Full Twitter Embrace
@SFGiants & Twitter from TwitterHQ on Vimeo.
There couldn't have been a better season for the hometown combination of Twitter and the San Francisco Giants than 2010, when the underdogs in orange and black won the World Series. Though the team's Twitter strategy didn't help it win any games it's safe to say that there might not have been a fan base more ready to embrace a full-on Twitter strategy than the folks who fill AT&T Park. The video above is a good recap of how the Giants embraced Twitter fully, and how now its fans expect to be able to see highlights, get news and other information simply by following the Giants on Twitter. And Twitter, likewise, uses the Giants' plan as the starting point for its list of ways sports organizations can use Twitter to help themselves. Never too late to start!