Hewlett-Packard is on the verge of releasing the TouchPad tablet as it seeks to stake out a section of the increasingly competitive tablet market and show that its costly purchase of Palm will pay solid dividends.
HP will be following the Apple roadmap in supplying both the hardware and operating system for its tablet, something that the Android and Windows-based systems are not able to do, but the question will be if it can copy Apple's success or is it too little too late?
Right now there are five operating systems that come to mind in this market, Apple's iOS, Google's Android, Microsoft's Windows, HP's webOS and Blackberry's Tablet OS. That is probably too many for all to profit and just like the PC operating system system wars of a few decades ago several will most likely not make it long term. Most app developers have limited resources and will select the platforms that they believe will deliver the fastest an best return on investment, and this will hurt HP, at least in the near term.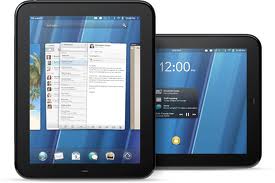 The HP pad device has very similar specifications to Apple's iPad, but they seem just a little off – a little heavier with a battery that is a little larger, and right now very little in the way of applications although the technology it is using is familiar to many since it came to the company as part of its $1.2 billion purchase of Palm last year.
The TouchPad will be available in a $499 16GB and a $599 32GB version. The device features a 9.7-inch XGA, multitouch screen with 1024×768 resolution display, a front-facing 1.3 megapixel webcam, and has Wi-Fi support. It is 7.48 inches wide and 9.45 inches tall is .54-inches thick and weights 1.6 lbs. It is powered by Qualcomm's 1.2GHz dual core Snapdragon processor. The TouchPad is designed to be used in conjunction with other Touchstone devices such as the Pre and so a user can transfer websites between devices, among other features.
While the interoperability between the tablet and phone is nice, there does not seem to be that much that really differentiates the TouchPad from the host of Android devices or the iPad family. Both of its better established rivals have tens of thousands of apps ready while the TouchPad has a few hundred. Having control of both hardware and OS development can lead to greater overall system integration, it also means that there is no shared development cost, all is carried by HP, a model that has hurt many companies in the past. HP is going to face a huge uphill battle to establish itself as a major player in this market and its first offerings does not appear to break any new ground, something that should be worrisome for the company.