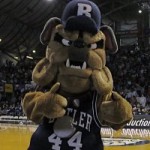 (By Frookie)
Victories by the Virginia Commonwealth (VCU) Rams and Butler Bulldogs to advance to the Final Four of the Men's NCAA Basketball tournament sets up a best-case scenario for those looking to make money from the evolution of sports viewing on mobile devices.
The two small-market teams with comparatively small fan bases will face off against each other in the Final Four. That means one of the two teams will advance to the Championship in Houston on April 4.
The VCU versus Butler match up is a best-case scenario for those following the advent of sports as a mobile-viewing phenomenon because it means that good data about secondary-market teams will be available sooner rather than later. With VCU and Butler advancing, insight into the appearance of secondary market teams is available for the second consecutive year. Since favorites almost always win, mobile sports programmers could have been waiting years or even decades for year-over-year data of what it means to have a major dark horse in a major sports championship.
Butler's Bonus From 2010 Final
For those interested in the marketing angle, the VCU-Butler game will give comparative data because it guarantees the second year running that an unheralded team will make it to the Finals. In 2010, Butler versus Duke was a Cinderella story that hoisted the Championship Game to a 16.0/25 rating on television, according to Nielsen Media Research. That tied with 2005's North Carolina versus Illinois matchup for the highest ratings in 11 years. In 1999, Connecticut and Duke scored 16.9/25.
Last year, mobile viewing of the final doubled up on the television ratings. NCAA March Madness on Demand (MMOD), the online viewing and social media hub for the tournament, reported a total of 575,000 unique visitors who consumed 368,000 hours of Duke vs. Butler on the MMOD video player. That represented a 70 percent increase in viewers and 72 percent increase in hours viewed from 2009, while television ratings increased 35 percent between 2009 and 2010.
Regardless of what the presence of underdogs in the Final Four and NCAA Championship Game ends up showing the major brands about mobile sports programming in general, VCU and Butler already mark big wins for this year's primary sponsors of MMOD, including Coke Zero and Subway. On-demand video of VCU and Butler will be a hot commodity for hardcore fans who may have focused on Kansas, Ohio State, Duke, Pittsburgh, San Diego State, Arizona and all the other obviously eligible favorites who have already fallen by the wayside.
The minor-market tilt will also give programmers and marketers information that can be used to plan future marketing and advertising strategies. Since neither team is in a major market, it will deliver a more "pure" viewer sample and perhaps help determine whether mobile sports consumers do favor iPads and smart phones for sporting events when a marquee team is not involved.
The other Final Four game, Kentucky versus Connecticut, also on April 2, features teams with major followings, and a superstar NBA prospect in Kemba Walker. Any contrast in usage patterns with VCU and Butler will provide valuable insight for future years.
Both games will help determine what sports programmers do not yet fully know or understand, which is whether the mix of teams in a championship game changes the mode of delivery for major sporting events. If the numbers tell programmers and advertisers that the mix of teams in a Championship game spurs the use of mobile devices as the primary viewing device, as opposed to companion viewing device to big-screen television, that's information to be used for developing marketing strategies for future Super Bowls, the World Series, NBA Finals and upcoming NCAA Championships. Advertisers who ignore advertising and direct marketing campaigns for mobile devices would risk being blacked out whenever major-market teams are uninvolved in a major sports event, if mobile devices prove a preferred method of access by significant audience segments.