Sports fans, coaches, event organizers, timing companies, publishers and even proud parents can now easily track sporting event results with a new a comprehensive platform that automates much of more complicated manual timing formats.
Webscorer Inc., based in Redmond, Wash., has introduced a platform that includes three integrated components, also usable separately: a race registration tool, a manual race timing app that runs on the iPad and iPhone, and a website that supports race results posting from the Webscorer timing app and other sources via an open interface.
Webscorer PRO is available as an in-app subscription from Webscorer FAN at the following rates on the iPhone and iPad versions for $9.99 for one week and $49.99 for one year. Webscorer Online Race Registration Service Webscorer has varying costs. Webscorer .TXT Results Posting Service is free.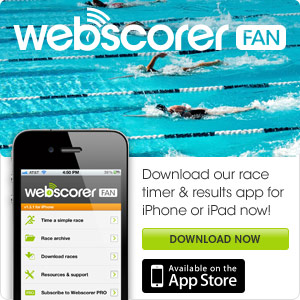 "As a racer myself, I witnessed the difficulty race organizers were having in timing races and providing timely results to racers," said Vesa Suomalainen, CEO of Webscorer. "With the emergence of the mobile Internet, we saw an opportunity to help modernize the pen & paper method still widely used in recreational racing today."
Founded in July 2009, Webscorer began with a mission to make race timing easier, more affordable and to improve the quality & speed to get the results to racers.
The full Webscorer platform is available worldwide. Webscorer has identified 36 timing-sports that can benefit from its products.
For more information, visit www.webscorer.com as well as the company's Facebook, YouTube  pages and Twitter account (@webscorer).