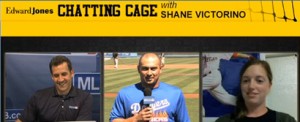 I spend a lot of time on Major League Baseball's various sites and use one of its apps when traveling to listen to ball games but I was surprised to find that it has a whole level of social interaction with fans that I was unaware of until this weekend.
When looking around its video section for a highlight from a game last year I came upon an online chat with Mat Latos of the Cincinnati Reds that had been recorded earlier this month. It is part of MLB's continued effort to use social media as another way to engage fans and is called The Edward Jones Chatting Cage, online video chats that has fans talking with players, coaches, managers and team executives.
The program was started last year but if you missed it that is understandable, (I did) it debuted without a great deal of fanfare in late September. But it is going strong now and you can view old conversations as well as participate in future ones although it is not entirely intuitive.
Going to the MLB page and you can find a section for videos. In videos you can find the Edward Jones Chatting Cage link. Click on that it takes you to the archives. There you can find past episodes where a variety of players and management answer fans questions. However there are no instructions on how to participate that I could find.
However if you follow MLB's Facebook page it does alert users to when the next Chatting Cage will be held, although you might need to search for it since they do not occur very often. You have to scroll down quite a bit to before the Latos interview to find out about the last one. No special section highlighting the event or mentioning when the next one will occure. You can submit questions via Facebook for the chats. Looking elsewhere I found that you can use Twitter with @MLB using the hashtag #chattingcage.
When you watch one of the archived shows it is obvious that fans can also log in using a web cam and ask live questions to the players and how they do that is not obvious, or if it is I am completely missing it.
However I like the concept a great deal. Of course it leaves itself open to trolls, as can be seen in some of the Facebook comments, but is a great way for fans to ask real questions of players and management, something they cannot do with any real chance outside of this program. If other sports pick up on this idea, and it's hard to see why they would not, it could spell the death of all of the independent apps.