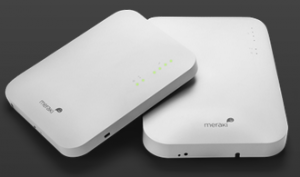 Why wait until Wednesday? No whispering here, with the news breaking Sunday of Cisco's $1.2 billion purchase of mesh-networking Wi-Fi provider Meraki. Coming on the heels of last week's successful public offering by Ruckus Wireless, you'd have to say that Wi-Fi is the hottest topic in the greater tech world right now.
And if you didn't want to say it, we will.
From a sports-specific viewpoint, it's not clear how the Meraki purchase might help Cisco's sports and entertainment group, since Meraki has reportedly had much more success in enterprise/campus deployments, where its easy setup and cloud-based management systems ease the process of deploying wireless networks. Since stadiums are a lot more high-touch — there are unusual RF problems caused by the buildings themselves, and the crowds of fans require fine-tuning of antenna directions — the Meraki gear may not be a big bonus, at least initially. Though according to Meraki, its gear has handled big outdoor events quite well, including the Monterey Jazz Festival. So maybe Meraki will help Cisco in the stadium-network battleground.
From a big-picture view, you can never be too thin, too rich or have too much networking intellectual property. And the billion-dollar-buy (all cash!) is a sign that Cisco, the biggest player at the table, isn't hesitant about trying to buy a winning hand.
While we here at Mobile Sports Report have been concentrating on the deployment of stadium Wi-Fi networks, it's clear that as a whole the greater public Wi-Fi market, of which stadiums are a part, is set to get bigger, faster. This weekend's big cash events are just the start.