Toyota/Save Mart 350
at Sonoma Raceway, thanks to a neutral-host DAS Verizon built there two winters ago.
According to Verizon, at last year's races the carrier saw 2.7 terabytes of data used by its customers over the weekend of race activity. The 2017 Monster Energy NASCAR Cup Series event includes practice and qualifying heats Friday and Saturday on the 12-turn, 2.52-mile road track built into the hills just south of Northern California's famed Wine Country, before Sunday's main event.
With one main grandstand and numerous other seating areas spread out around the course's twists, turns, climbs and dips, bringing enhanced cellular connectivity to the venue had as many curves to conquer as a driver during a 350-mile race. Built during the winter of 2015-16, Verizon said the deployment was a "considerable construction project," using more than 25,000 feet of underground boring runs and conduit to reach different tower locations on the raceway property.
On a recent tour of the raceway, Jere Starks, the facility's vice president for facilities and operations, showed why the boring was necessary, since trenching of fiber would have disrupted the integrity of the hills and surfaces that support not just the track but the seating areas, many of which back into hillsides.
When the NASCAR series was sponsored by Sprint, Starks said cellular connectivity for the NASCAR event was provided mainly by mobile COWs, or cell trucks on wheels. Like any other large venue, the increased digital activity of fans on mobile devices ("they do everything on their phones except their income taxes," joked Starks) meant that a higher-capacity solution was in order.
According to Verizon, its customers used another 1.7 TB of data during last fall's IndyCar race, the other "big" event on the Sonoma Raceway calendar. Though it is designed as a neutral network, according to Verizon no other wireless carrier is yet using the DAS.
Getting power to the towers
Editor's note: This profile is an excerpt from our latest STADIUM TECH REPORT, our Summer 2017 issue that has in-depth profiles of network deployments at the Atlanta Braves' new SunTrust Park, the Colorado Rockies' Coors Field, and even a profile of a new Wi-Fi network for Westfield Century City Mall! DOWNLOAD YOUR FREE COPY of the report today!
For its DAS hardware, Verizon turned to JMA Wireless, which said it used its multi-band, multi-carrier TEKO DAS gear at the raceway. According to JMA, there are 76 low-power, five-band remote units and four high-power, five-band remote units, as well as 88 ODAS (outdoor DAS) antennas deployed at various strategic locations around the track as well as between seating and parking-lot areas. The deployments mesh in well with existing infrastructure, even sometimes sharing poles with speakers to blend in with the racetrack elements.
JMA said the deployment also made use of its FUZE wireless power technology, which can bring electricity to DAS tower gear without having to have the local utility bringing AC power to each location. According to JMA, using digital electricity also allowed for the use of composite cable (fiber and copper together in one sheath), making installation faster and easier by utilizing a single "pull" cable.
Touring the facility with Starks, Mobile Sports Report saw towers located at the front of main grandstand areas pointing back, and at the back of some seating areas with antennas pointing both toward the seats as well as down the hills to the main parking areas located to the east of the racing area. Farther east to almost the edge of the property is the network's headend building, a facility whose build-in story is probably worth a novel-length essay all by itself.
According to both Starks and Verizon, the prefab headend building was shipped to Sonoma from Louisiana, a process that took months both due to the logistics of simply shipping such a large, heavy building (according to Starks the trailer bringing in the main part of the facility had 11 axles) as well as negotiating its passage with the highway patrols and departments of transportation for states along the way. According to Starks and Verizon, the headend deployment process included having to build a new road across the dirt parking lot to support the buildings' transport, as well as a strengthened concrete pad to support the facility.
(Starks told a longer, great story about how some local ingenuity helped speed up final deployment after a legal delay kept the main building tied up at a state border for a few weeks. After the delay meant certain crane placements wouldn't work, someone suggested the crew spread sand on the concrete pad and bulldozer the bigger building into place, a trick that Starks said worked well — "it just slid right in there.")
Ready for more connectivity
With another 100,000-plus fans expected during the NASCAR weekend, as well as at the venue's popular drag-racing events and the fall IndyCar stop, Starks is happy that fans will be able to use their mobile devices as much as they want, now for Verizon Wireless customers and for other carriers' subscribers in the future.
"When you have 50,000 people all doing video [on their phones] at the same time, we knew we had to overhaul the system," Starks said. "Verizon did a great job, they were very sensitive to the facility and it was a great experience working with them."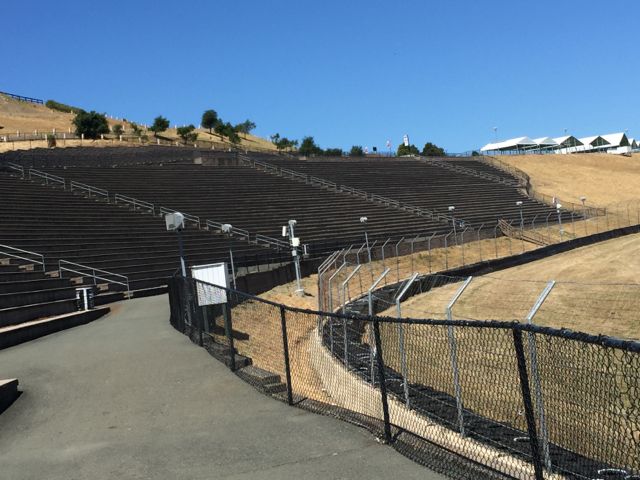 A look at one grandstand area, with several DAS antennas in front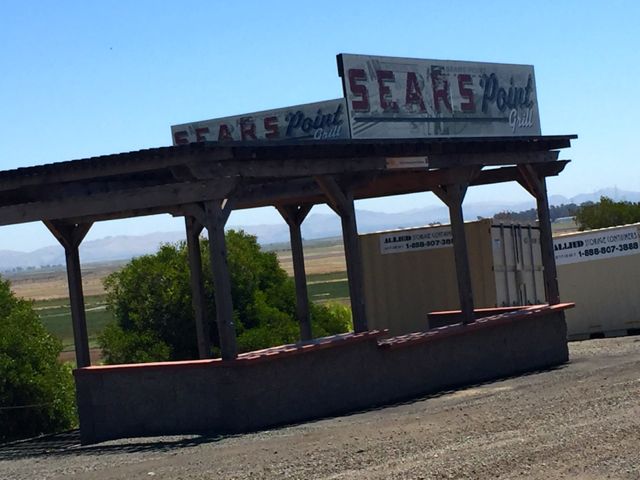 A concession stand for old-school fans who remember the track as simply "Sears Point"

For the second year in a row, NASCAR fans who are Verizon Wireless customers should have a speedy cellular experience at this weekend's