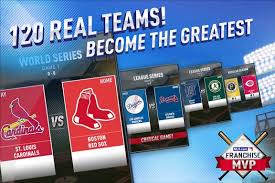 Major League Baseball's Advanced Media Group has taken the wraps off of its latest mobile game as the league is now looking to maintain fan interest and mindshare into in the off season with the release of MLB.com Franchise MVP.
Baseball fans are often known for their following of not just the major league team but all of its affiliates in the minors from short season A teams to AAA as well as Winter League and other off season contests, and this game will appeal to them.
MLB.com Franchise MVP covers not only the pro level but actually starts at the Class A level and includes 120 teams that are in both MLB and MiLB and enables the user to be both a player working his way up to the bigs but also as a manager.
Starting out the user decides on a wide variety of topics and how to apply them such as training and what type, as well as in game decisions for the mini-game simulations. As skills and ability improve the players moves up levels and helps teams win. As the player progresses he earns currency that can be used to buy addition gear, skills and training equipment
In its press release MLB's vice president of gaming Jamie Leece said "We built this game to be a fun graft of simulation baseball and player development strategies," Anyone who has sat around with more than two baseball fans knows that these are topics that are very popular.
The app, which is available for free for Apple iPad and iPhones joins a number of other programs that have been developed by MLBAM including MLB Ballpark Empire and MLB.com Home Run Derby. It would be fun if the league made some that included some of the historical but now gone leagues like the Arizona-Mexican League or just any of the Class B, C or D leagues.