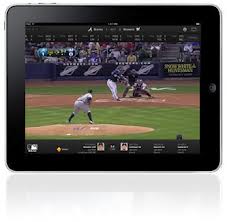 For many baseball fans one of the landmark days of the season is when pitchers and catchers report. For others it has now become when MLB.Com releases its At Bat mobile sports program at the start of each season.
The popular app is now in its fifth season and it is now available on a much greater variety of platforms than ever, with its mainstay Apple iPad and iPhone as well as support for Android-driven smartphones and tablets. New this year will be the support for the BlackBerry 10, due by opening day. Apparently still no Windows Surface Pro support.
Like the players the app is now only ready for Spring Training but there will be an Opening Day update soon. It costs a onetime fee of $19.99 for the entire season including the World Series, although there are a few options. Subscribers to MLB.TV Premium can upgrade to MLB AT Bat 13 for free while Apple's iOS users can get a monthly billing of $2.99 a month if they wish.
As with every year there are new and/or enhanced features with the program, and it also varies a bit by which operating system and device you are using to view the app with although the differences are narrowing.
Some of the features for all devices include a new app navigation system, searchable video highlight library, and a classics games video library archive. For iPad and Android tablet users there is also sortable batting, pitching and fielding statistics as well as favorite team enhancements. Then there are also ones just for smartphones such as new team pages and revamped news interface.
There is also a host of Spring Training features including the ability to watch an estimated 200 games, live audio broadcasts, scoreboard tracking as well as breaking news and full season calendars.