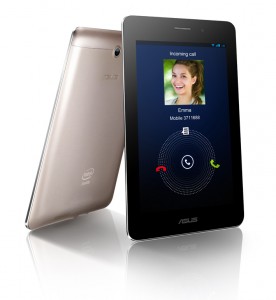 Asus is the latest to get into the multifunction 7-inch tablet space with its Fonepad, a device that functions as both a tablet and a smartphone, something that will go head to head with other devices in this emerging category such as the recently released Samsung Galaxy Note 8.
The handheld is powered by an Intel Atom Z2420 processor running at 1.2GHz and will feature 1GB of RAM, and will be available with either 8GB or 16GB of storage while a microSD slot enables users to add additional storage up to a total of 32GBs.
The 7-inch display has 1280 x 800 HD resolution and it features a 1.2MP front facing camera while an optional rear facing 3 MP camera with 720p HD video recording capabilities is also available. It uses the Android 4.1 Jelly Bean operating system.
The Fonepad has an expected nine hour battery life and comes with built-in 3G with HSPA+ mobile data so that users can browse and download data and apps as well as use it as a telephone. The company has included a set of Asus exclusive apps including Floating App for easy app management and simpler multi-tasking; SuperNote lite for handwritten notes; and WebStorage Office Online for Microsoft Office-compatible document editing on the move. Fonepad users also get 5GB of free lifetime ASUS WebStorage.
It is expected to ship next month and will have an entry price point of $249. It seems that the smaller form factor is heating up as the new place to be, with an increasing number of companies entering the space. I suspect we will see a number of additional offerings in this space over the next few months as handset developers as well as tablet companies seek to carve out some of the market for themselves.