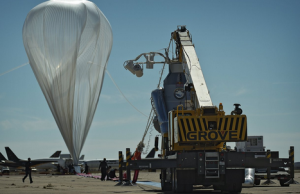 If there ever was a deflating event it was Tuesday's non-launch of the Red Bull Stratos experiment, which purports to use a big balloon to lift daredevil Felix Baumgartner some 20 miles into the sky, a height from which he will attempt the highest free fall ever.
But after being scrubbed Monday the Red Bull crew tried to get Baumgartner off the ground Tuesday — but after some limp inflating of the balloon high winds perked up and the whole thing was called off. Apparently the gusts also twisted the balloon enough to make it structurally unsure, as Red Bull said in a blog post:
As we inflated the balloon and got Felix into the capsule at about 11:42 we experienced gust of wind …that took us to above 22 knots at the peak of the balloon, that caused a spinnaker effect on the balloon billowing, which twists the balloon in the launch arm, the integrity of the balloon at that point is really unknown and unacceptable to use for manned flight because we were not sure what would happen as we launched."
According to another blog post Wednesday there are some real complicated weather parameters that all need to fall into place for the launch to take place, leading us to wonder if this thing is ever going to happen — or if it ever really was in the first place. There's a lot of interest in this stunt, as evidenced by the numbers of viewers on the live YouTube channel — which at one point hovered near the one million mark, which has got to be a YouTube record even though nothing was happening.
The non-cynic in us sees the immense amount of marketing money Red Bull has put into this effort and says, yeah, they really plan to do this. And apparently there is a second balloon at the ready, so another launch attempt is possible. But the jaded side of us says — you need to have perfectly still weather in the desert in the fall? Good luck with that. Stay tuned to the Red Bull Stratos page for more launch updates, the site says now that the launch is re-scheduled for 7 a.m. Mountain time this Sunday but this may be one of those things like the Maverick's surf contest, where they wait for months for big waves that might not happen. We'll keep watching, so stay tuned here at MSR for the latest when we see it on the Red Bull site.