Polaroid has expanded its presence in the growing sports action cam space with the addition of a trio of offerings that are designed to meet a wide range of uses and price points as the company moves more strongly into this space.
This is an interesting space, with these cameras used in place of smartphones at one end of the device spectrum and more dedicated camcorders at the other end. Often housed in at least water resistant cases and more durable than a phone or a tradition camera they are for users that wish to record their latest skiing, skateboarding, diving or off road biking experience.
The 1.6 ounce entry level XS7 has the ability to take 720p high definition video or still images at 1MP, 3MP and 5MP and has a 2-inch full color screen so that users can view video and images that they have just shot with the camera.
Its case is waterproof up to 30 feet and it, as with all of the new action cams, comes with mounting brackets that enable it to be used on top of a helmet or on a bike's handlebars. The $69.99 camera supports Micro SD cards with capacities up to 32GB.
Moving up a step is the Polaroid XS20 that also captures 720p video as well as 5MP still images. It is waterproof to 65 feet so it can be used on dives and other more water based activities. Its three hour battery gives a user more time to record their activity while it is designed for use in all lighting environments including low light due to its 8 built-in LED lights. The $99.99 camera can even act as a security device due to built-in motion sensors.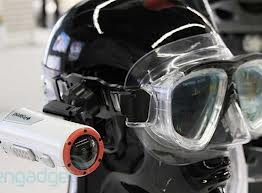 The Polaroid XS100 is the high end offering and can not only record in 720p but also 960p and 1080p video as well as record 3MP, 5MP and 16MP still images. It has an ultra wide lens that can provide 170 degree coverage and while in camera mode it has adjustable frame rates like burst shooting mode, time lapse and fast and slow motion.
Polaroid is a well recognized name in imagery and has an established track record delivering quality cameras so it will be interesting to see how well it is accepted in this space.
There are some well established players in this space led by GoPro, which has deals that bring it into the forefront such as its relationship with ESPN's X Games. Others are moving into the space such as Sony with its Bloggie Sports Camera. However Polaroid is a well recognized name in imagery and has an established track record