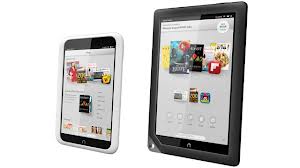 Barnes & Noble has expanded its tablet offerings with a pair of new offerings including the first high definition models as the company is once again going head to head with rival Amazon and its tablet offerings.
The latest from Barnes & Noble is the Nook HD and the Nook HD+, with the Nook HD seeking to stake out the low cost leader in the 7-inch high definition space and the 9-inch Nook HD+ seeking to do the same in the larger screen space.
The Nook HD features a 1440 x 900 display that is capable of 720p HD video playback, with a standard 8GB of storage that is expandable to 16GB, running a version of Android 4.0 operating system and powered by a dual core 1.3GHz OMAP 4470 processor. It does not feature a front facing camera or NFC capabilities.
The Nook HD+ features a nine inch display that has a 1920 x 1280 pixel resolution and comes with 16GB storage as standard that can be upgraded with a microSD card to 32GB. It is also powered by the TI OMAP 4470 processor, this one running at 1.5GHz.
The arrival of these tablets was not that big of a surprise for two reasons. The first was the simple need to keep up with the Jones, or in this case Amazon and the second was that the company had announced its streaming video service and that almost certainly meant having a HD device to view the video. Both tablets are due in late October and the Nook HD will start at $199 and the Nook HD+ will be available at $269.
Barnes & Noble is touting the wide array of content for the devices including its large catalog of digital books. The Nook Store has been revamped and features 3 million books including nearly 3,500 children's interactive picture books as well as a growing collection of comic books and graphic novels.
The streaming video service will be called Nook Video and will launch in late October. The service will feature TV shows as well as HD movies that can be downloaded and viewed. Among the studios that they have licensed content from are HBO, STARZ, The Walt Disney Studios and Warner Brothers Entertainment.
The latest generation of Nook devices can also be connected to a television so that a user can view the videos in full 1080p. The content can also be viewed on tablets and smartphones via the Nook video app.
Other areas that it has either added new features or support are in its UltraViolet support enabling the integration of physical DVDs and Blu-ray discs that have the UltraViolet logo from Barnes & Noble with the Nook.
The Newsstand has been revised with a new look and allow you to select only specific sections of a paper if so desired. The Magazine 2.0 allows readers to cut out pictures and just read text if they want and has a feature called Nook Scrapbook for clipping pages and saving them. The Nook Apps offers a range of apps for the tablets, with currently around 6,000 available.
The move comes both in time to help maintain its position as a top provider of tablets at a time when the competition, now from Amazon but soon from others as well, is increasing. It still trails rival Amazon in apps available, as well as Amazon having a huge set of additional services that are well established and familiar with its customers, something that will help propel Kindle HD sales.