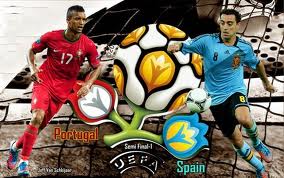 ESPN is continuing to draw strong viewership for its Euro 2012 soccer broadcast through last weekend's quarterfinals, with the Italy versus England match last Sunday leading the way.
The quarterfinal rounds witnessed a slight increase in viewership overall, compared to the opening round, 1.4 million versus 1.3 million, while the top match on Sunday drew an average of 2.96 million viewers.
One of the interesting aspects of the viewership numbers is how well it is doing on week days. While the Italy/England match drawing double the viewership of the weekday matches, most people I know work at 2:30 pm, so quite a few are sneaking away to catch some of the action. I suspect that with the finals, played on a Sunday, will destroy the Italy/Germany numbers as more and more fans are tuning in to catch the matches.
Overall the first two rounds of the Euro 2012 championship, which was a total of 28 games, saw an average of 1.1 million viewers, up 63% from the same 28 matches four years ago, with the quarterfinals up 31% over the same period of time.
ESPN is also continuing to see strong viewership on its on-line and other broadcast properties. Online the quarterfinals saw ESPN's two soccer properties, ESPNFC and ESPNsoccernet.com average 878,000 daily visitors and 3.1 million page views per day globally. Four years ago, when ESPN only had Soccernet its three online properties, including ESPNdesportes.com are up 24%, 13% and 132%. ESPN3 and WatchESPN had 2.1 million unique viewers, with computer usage to watch the games up 688% compared to four years ago.
Compared to ESPNsoccernet.com during the same time period for EURO 2008, the site is up 24 percent, 13 percent and 132 percent, respectively. In total, ESPNFC.com, ESPNsoccernet.com and ESPNdeportes.com generated 13.3 million total page views during the quarterfinals, up 14.6 percent compared to EURO 2008.
The Semifinals begin later today at 2:30 ET with Portugal vs. Spain and then tomorrow at the same time for the Germany vs. Italy match. The finals will begin at 2:30 on Sunday.