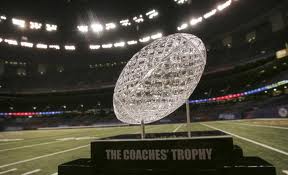 Earlier this week the second round of approvals needed for the creation of a playoff to decide the BCS Championship made it with flying colors as conference commissioners and university presidents and chancellors came to an agreement on the topic.
There are still a number of issues that need to be decided, but most of these are simply housekeeping issues. Among the topics are: Ink a new TV deal and work out how the revenue sharing will work, and of course what is the new name for the playoffs. The composition and election of the selection committee that will determine the playoff teams is also a topic that needs to be worked out. I wonder if they will also create a new trophy?
The move will end the reign of the BCS Championship Series after next year, when the four team playoff is scheduled to begin. There are a number of people that have called for a larger number of teams to be allowed in the playoffs, but that seems unlikely at least in the near term and the current playoff plan is slated to run for 12 years starting in 2014.
The semifinals will rotate between six bowl games and the final game will be put out to bid for host cities just like the NFL's Super Bowl. It had appeared earlier that the bowl games had already been decided but it now looks like that is not true. The marketing activity to be included should be tremendous in the upcoming year.
At the WWL ESPN the news is that it has reached an agreement for a 12 year extension of its broadcasting the Pasadena Tournament of Roses with the Pas-12 and the Big Ten Conferences. Starting in 2015, after the current deal expires, the deal will continue ESPN's broadcasting of the Rose Bowl.
ESPN could, and most likely will, get a nice bonus from the deal if the BCS Playoff system selects the Rose Bowl as a playoff site, as the agreement is expected to cover that opportunity as well. The Rose Bowl is the site of the 2014 BCS Championship already.
All of the games will be played on Jan 1 at 5 pm ET except for the years that the 1st is on a Sunday. The broadcasts will span much more that television and will include, ESPN Radio, ESPN Mobile TV and can be seen on smartphones, tablets, online and on Xbox LIVE via WatchESPN and will be available on ESPN 3D .