So how many apps are too many?
A recent report from Neilsen called the" State of the Appnation" has some very interesting insights into how many apps users of smartphones have on their devices. With 88% of all smartphones running either Apple's iOS or Google's Android operating system the report mainly speaks to this market.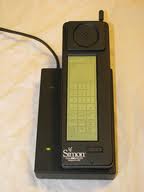 The average owner has 32 apps while over half have at least ten more loaded on their devices. An interesting tidbit is that the more apps you have the more time you spend using your apps. An issue that seems to be at the top of everyone's list these days also appeared in the study where 73% were concerned about how their personal data was being used.

Wearing Skechers is not a workout-Who would have guessed?
The Federal Trade Commission has dropped the hammer on exercise shoemaker Sketchers over its claims that wearing its products would help tone your lower body muscles and help you in losing weight. Apparently they do not.
The company, after a bit of thought and possibly a great deal of lawyer talk agreed and is now on the hook to payback $40 million in refunds. The Consumerist predicted this last year and you should head over and see its coverage.
Windows Tablets by Thanksgiving?
Cnet is reporting that the first batch of tablets from developers that have adopted Microsoft's Windows 8 operating system should be here in November, and that Intel will be inside. The OS will support multiple operating systems it reported, claiming that it will be able to handle multiple versions of ARM, Intel as well as AMD.
It is interesting that what is also expected is a wave of hybrid systems, tablets that have physical keyboards and probably other iterations. Apple's CEO Tim Cook took a stab at what he viewed the futility of hybrids during Apple's most recent earning call.
The Intel-powered devices will use an as yet shipped processor from the company called "Clover Trail" that is a dual core processor in its Atom family.
Lied about playing in the Super Bowl? Well now you can get that ring
Sadly Lawrence Taylor's life continues its downward trend and he is being forced to sell one of his two Super Bowl rings at auction Available from SCP Auctions the ring, from Super Bowl XXV has two large football shaped diamonds surrounded by seventeen smaller diamonds.
The ring also has Taylor designed into as well as his uniform number. At last look the bidding was at $67,000 and is expected to rise significantly before the bidding is closed on Saturday. According to news reports he has not said why he is selling the ring.
Tablet Traffic soaring according to Adobe
A study from Adobe is showing the big and growing impact that tablets are having on web traffic, according to a report from eWeek. The report shows that tablet traffic is already growing 10 times that of smartphones and that it estimates that tablet traffic will represent 10% of all website traffic in two years.
The result of all of this is that it should encourage developers and web site operators to ensure that they have optimized for that traffic since, at least currently, tablet users represent a wealthier portion of the population and so more likely to purchase services and products.
Google to go direct with Tablet?
A report from the Wall Street Journal said that all signs are pointing to Google going direct with next generation smartphones and tablets that are being built for the company. The devices will be available under its Nexus label and are expected to be available in the Fall holiday selling season.
The reason for the move is apparently to eliminate wireless carriers that add their own special sauce so that the devices sold via their sales channels will only work on their wireless networks. The move will likely put it in direct competition with current allies such as Samsung and Amazon.
Facebook's next goal- Bigger Mobile presence
The Facebook pre-IPO road show is winding down but the message has been delivered-We are going to monetize mobile Facebook its executives have said consistently while talking to investors across the country.
It s mobile app is very popular, just not very cash flow positive and it has said that it will be looking to reverse this as it appears that the mobile version is now fueling a great deal of the company's growth. The company has recently ramped up its app development efforts
HTC smartphones blocked at US customs due Apple ITC ruling
If you were waiting for the latest smartphone from HTC, say the HTC One X, your wait just became a bit longer as Apple has gotten the US Customs to block entry into the United States the HTC One X and the HTC EVO 4G LTE, a move that could really harm the HTC EVO 4G LTE which is expected to launch today.
This move is the result of a ruling by the US International Trade Commission from last year that found that HTC infringed on an Apple patent and that all devices that used the technology from HTC would be barred. However phoneArena.com speculates that HTC has included workarounds to the patents in these offerings.
Apple also granted a patent
Apple has also been awarded a patent for soft keyboards used with its iOS. The patent is called "Method, system, and graphical user interface for selecting a soft keyboard" and that pretty much explains it, right?
Well according to The Inquirer, Apple has had a related patent for three years and that the current one describes in detail how the soft keyboard relates to user interfaces and how they are used in selecting soft keyboards.