With the second start to this year's MLB season, and I am still not sure what the league gained by starting last week in Japan followed by a long layoff, all fantasy teams should be in place for the long haul to October greatness.
However the fact that the draft is completed means that only the first step is finished, and then comes the monitoring of teams and players, keeping a hawk eye not only on the waiver wire and the injury report, but also how your own roster is performing so that gaps and shortcomings in a lineup can be repaired quickly and efficiently.
I still know one or two people that primarily use one source for all of their information, but with the growing number of sites that are available it makes sense to have multiple sources for data, and to have an app or two loaded in your smartphone or tablet so that you can react instantly.
Most of these are available on both Android and Apple's iOS. One or two are available on a BlackBerry and I did not find any that specified Windows Phone, although I imagine that will change in a year.
These are in no particular order and with that we will start with Yahoo! Fantasy Baseball '12. Many fans are familiar with this free app and a few new features have been added including Facebook and Google logins as well as features such as real time score updates and player stats.
Another I am sure most are very familiar with is ESPN's free Fantasy Baseball app, although when you say free there is a pay option of sorts. The basic app gives you team management, the ability to accept or reject trades from other managers and a host of news, tweets and video from ESPN's Fantasy Baseball analysts.
If you are an ESPN Insider, or want to join for the extra features you also get push notifications when players are benched or are send to the DL. It also has exclusive video and news from the ESPN team. For those looking towards next year it is good to remember that it also has Spring Training notes so get the app early. A user must have an ESPN Fantasy Baseball team.
Fox Sports is not about to be left out in the cold on this and has a new version of Fox Fantasy Baseball. It allows you to join an established Fox league or form a private one with customizable rules and offers a variety of scoring systems including rotisserie and head-to-head.
The app allows a great deal of league customization with leagues ranging from four to 20 teams and a variety of draft, trading, and score keeping options available.
CBSSports.Com has its Fantasy Baseball app that has three different main settings. For the casual fan or those new to a fantasy league there is a setting for you, and you can organize a league or enter into an established one.
At the second level, called Premium Games, a player can win up to $3,500. This has four levels of participation, in part determined by the fan's experience and the entry fee that they wish to pay, with fee's for a first team ranging from $29.99 for the $150 prize to $499.99 for the $3,500 prize. Cash prizes awarded to the winner of each ten team league.
For the experienced that want a customized experience there is the Commissioner- where you can set customized rules for the league, rosters draft format and a variety of other features. CBSSports offers a range of apps that will work with the league.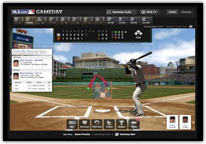 We have already covered Bloomberg Sports Front Office 2012 here so all I will say is that it is a very full featured app that covers a wide range of areas that fans would want or need information about players or teams.
For those that are late or waiting until the first week of the season to hold their draft there is GlassWareMobile's Fantasy Baseball Draft Wizard for Android. While not specifically for stat heads it helps to understand simple terms such as VORP. It provides three years of stats for players and gives dynamic adjustments to players' value in real time.
Roto Sports RotoWire Fantasy Draft Kit 2012 is another place to go for the draft information that you need. You enter your league parameters and it will generate a draft either based on player rankings or dollar vaue. It contains 2012 projectsions for over 1,000 players and continuously updates them
Interested in tracking minor league players in case you are in a league that allows September call-ups to count? Try MiLB.Com Triple-A 2012. No video on the $4.99 app but it has pitch by pitch tracking for the International and Pacific Coast League teams as well as standings schedules and other information.
For those that do not bother tracking minor league players you do not know what you are missing. I love how some guy in a windswept PCL team will come to the majors with gaudy numbers that just do not translate well the MLB parks and pitching. This is a way to stay ahead, especially if your league requires a rookie each year.
There is just about something for everybody here, aside from operating system limitations. Most but not all are free, a positive price in my mind, and deliver and increasing array of information to fans. I would be interested to hear any pros or cons on these apps from any users out there.