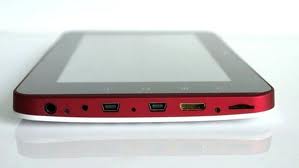 Looking for a tablet that can serve as an eReader and possibly more while not wanting to support the corporate giants in the business such as Apple, Samsung or Nokia? Then MakePlayLive might have the solution for you.
The company has started to take orders for its 7-inch form factor Vivaldi tablet, one of the first tablets that is available using an open source operating system rather than iOS, Android or any of the other operating systems currently on the market.
Originally named the Spark Linux, the Vivaldi will operate using a free software platform of GNU/Linux, Mer and KDE Plasma Active. The hardware comes with a 7-inch display that has 800 x 480 resolution. It is powered by a 1GHz ARM Cortex A9 processor and includes a Mali 400 GPU. It features 512MB of RAM and a 4GB flash disk for data storage.
The Wi-Fi only system can support 3G with an external add-on and it includes a 1.3MP front facing camera, HDMI 1080p output; two USB ports and a microSD slot. The battery is estimated at having approximately a 7 hour life. The company is already talking about a 10-inch version.
This is not the lone effort of a developer in the Linux space but at least one other player, Ubuntu Linux, has been working on developing specifically for this space and a port of Ubuntu 10.11 is reportedly near for the Archos 43 and Archos 101 tablets. Bohdi Linux 1.4 is designed for tablets and notebooks and is based on Ubuntu but is differentiated.
There is also the Trimble Yuma from SDG Systems, but it is doubtful that many casual users will want the tablet that has been ruggedized for military use. The 7-inch system features the Ubuntu 10.4 LTS Netbook edition Linux software and is powered by an Intel 1.6GHz Atom processor.
Demand for the tablet looks to be good as the company has shut down its pre-order sales effort and has a note on its site saying that all of the first shipment of the tablet has been called for, a good sign for the company and open source in the tablet market.
While the Vivaldi will most not likely steal market share away from Apple's iPad, or even maybe the Kindle Fire, it is good to see that Linux is moving into this space and providing competition to the mainstream players.