The Mobile World Congress which started earlier this week in Barcelona is finally wrapping up, with thousands of press releases, a dozen or so keynotes and lots of gossip, rumors and even a brief appearance by Occupy Wall Street Protesters.
We are only interested in a few categories of products of the many that were unveiled, primarily the smartphone and tablet platforms as well as some of the programs and apps that have been introduced, so we will only be giving a brief overview of all of this week's action.
Tablets
Asus has kept its foot to the accelerator and has added another tablet to its growing lineup, this time the Transformer Pad Infinity. The highlight of the product is the 10-inch Super IPS+ touch screen display that has 1920 x 1200 pixel resolution and a 178 degree viewing angle.
It will be available with two different processors powering the Android 4 device- e available running Qualcomm's 1.5GHz dual-core S4 processor for the 3G/4G configurations or NVIDIA's 1.5GHz quad-core Tegra 3 CPU in the Wi-Fi only models. The company also added the Transformer Pad 300 to its lineup as well.
Samsung led off with a pair of tablets, the Samsung Galaxy Note 10.1 and the Tab 2 10.1. The Galaxy Note brings the company's S Pen stylus to the big screen 10-inch display while the Tab 2 10.1 looks like it will be an entry level offering.
Huawei has delivered what it touts as the first 10-inch quad-core tablet, the MediaPad 10FHD Entertainment tablet that is powered by a Huawei 1.5GHz quad-core processor, runs Google Android 4.0 operating system and has a 10-inch, 1920 x 1200 IPS high definition display screen. It has an 8 megapixel rear automatic-focus camera and a 1.3 megapixel front-facing camera and memory storage of 2G RAM.
Smartphones
One of my favorite items is not even new. Introduced last year, but not delivered and now upgraded in regards to features is the Asus PadFone. I like it because it really seems to adequately serve as two different products, a smartphone and a 10-inch tablet/ small PC computer.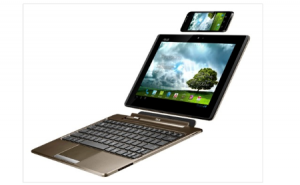 It comes with a 1.5GHz Snapdragon dual core processor, 1GB RAM and an 8 megapixel rear camera. It is its docking ability that separates it from the crowd. T can dock into a -10-inch tablet that resembles the company's Transformer lineup of tablets, and the resulting tablet in turn can be docked with a keyboard. It seems to have it all. No pricing has been announced but it should be available in April.
Huawei has also moved its quad core processor into the smartphone field with the Ascend D Quad offering that features a 4.5-inch display also running Android 4.0 operating system and using the company's proprietary power management technology to give it 30% longer battery life.
LG was of course present and making itself known with the quad core LG Optimus 4X HD. Using a Nvidia Tegra processor the phone features a 4.7-inch display (remember when smaller was better in phones?). The company also said that it will be delivering a stylus style phone that will compete with the Samsung Galaxy Note.
Want 3D without needing to wear glasses? Then LG has the phone for you in the Optimus 3D Max which has the ability to record video in 3D. It features a 4.3-inch display with a 1.2GHz dual core Snapdragon processor and a 5 megapixel camera.
Samsung also expanded its offering here with the Samsung Galaxy Beam. The highlight of this phone is in its ability to serve as a projection device, it has a nHD projector capable of projecting an image with a maximum of a 50-inch diagonal.
Intel has gained an ally in establishing its technology in the smartphone space with a partnership with Indian startup Lava. Lava has launched its first Intel-powered smartphone, the Xolo X900. The first two phones in this lineup will use lower end Intel chips including the Atom Z200.
The company, which entered the market as a budget phone provider will move to a higher tier later when it uses Intel's 1.6GHz Z2460 processor in future offerings. Intel also revealed that Orange will be offering phones powered by Intel's Atom processors to its United Kingdom and French customers.
Back in the thick of things is Sony, looking to reestablish itself as a player in this space with out its former partner. It had a pair of dual core offerings, the Xperia P and Xperia U. Both are running Android OS 2.3 but should be upgraded in the near future. They have the ability to connect to Sony's Entertainment Network and are designed for power graphics.
Nokia has been all over the place at the show, with a total of five different phones. The two that we will mention are the Lumia 6100, a mid-market Windows Phone device and one running its soon to be cast off Symbian operating system, the PureView 808, that features a 41 megapixel camera sensor. Aside from the other three entry level phones the company also had a range of new apps for its handsets.
ZTE had a pair of phones, a Windows Phone in the ZTE Orbit and an Android powered ZTE Era.
Elsewhere at the show
In other news Microsoft has teamed with Good Technology have entered into a strategic partnership in an effort to move the Good for Enterprise app from Good onto Windows Phone devices. The program helps ensure security when accessing corporate data by encrypting email.
Nokia, a key Microsoft partner in the smartphone market has already said that it will support Good for Enterprise solution on its Lumia phones that run Microsoft's Windows Phone 7.5 operating system.
Microsoft also released the consumer preview version of Windows 8, which is available now as a free download. There are plenty of new features including the ability to store settings and files in the cloud, has a feature to speed navigation and a new user interface. Microsoft has also opened its Window Store for apps.
Other security players were also present at the show. Symantec made a big push with a range of announcements including new versions of Symantec Mobile Management, Symantec Data Loss Prevention for Tablets and Symantec Data Managed PKI Services. The company is looking to enhance its position in the Windows Phone, Android and Apple iOS markets.
The show set a new attendance record with 67,000 visitors and 1,500 exhibitors and will be forced to move to new, larger quarters next year.