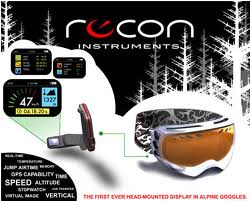 Start-up sports analytic display company Recon Instruments recent product launch has helped it close a $10 million investment round that should help the company expand both in the sports field but also pioneer new markets.
The latest round features two investment firms, Vanedege Capital and Kopin Corp. that jointly funded the $10 million. Recon said that the money will help continue its product development. Vanedege is a new investment fund located in British Columbia while Kopin, with its voice-activated, wireless, hands-free Golden-i mobile computing headsets, ruggedized military imaging systems and other products looks much more like a future customer or partner of Recon.
The company was founded in 2006 by 4 MBA students from the University of British Columbia's Sauder School of Business in Vancouver and was initially funded by the founders, their friends and family, skiing enthusiast and a matching grant from the BC Innovation Council. It received bridge funding from Espresso Capital last year.
Recon's core technology is called Micro Optics Display (MOD) and is designed for use in skiing goggles. It is an adjustable, color widescreen micro LCD that provides real-time information to the athlete such as speed, GPS location, jump airtime, vertical and total distance traveled, temperature, altitude and time, among other features.
There is a range of additional features for the devices ranging from tracking your friends to wireless connectivity to Android-powered smartphones and ability to access playlists.
A customer can either purchase integrated goggles or now buy a unit that can snap in and out of Recon-ready goggles and swapped out when needed. The company has several partners that make compliant goggles including Uvex, Alpina and Briko.
The display is controlled by a device that is strapped on the users arm and includes large buttons so that they can be easily used by owners wearing mittens with communications via Bluetooth connectivity. The company released its second generation products last Fall.