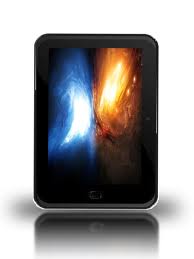 Idolian, a telecommunications firm in Newport Beach, Calif., has entered into the 7-inch form factor tablet space with its IdolPad, a product it touts as being a viable product for both consumers and small businesses.
The IdolPad will be used to anchor the entry level position in the company's expanding lineup of tables, which now feature eight separate models and top out with the high end TouchTab 10, with its 10-inch display. The IdolPad sells for $99.99, getting under $100 by the thinnest of margins.
The IdolPad is powered by a 1GHz Cortex 9 CPU with 512MB of RAM and runs on the Android 2.3 (Gingerbread) operating system. It has a 7-inch multi touch resistant screen with 400 x 800 resolution and comes with a 1.3 megapixel front facing camera.
It ships with a 4GB hard drive and can support up to a 32GB microSD expansion card. It ships with Wi-Fi but no Bluetooth support and the company claims that it has a 4-6 hour battery life and supports HDMI 1080 resolution.
With the ability to serve as an e-reader, stream NetFlix or be used as a Skype device Idolian is positioning the IdolPad as an alternative to the much better known and wildly popular Kindle and Barnes & Noble's Nook lineups.
With no hands on experience it is hard to give an accurate impression of the device but it supports color and as a lower cost rival to the $199 Kindle Fire it could be very viable. It does essentially the same things, but features an unaltered version of Android, which the Kindle does not.