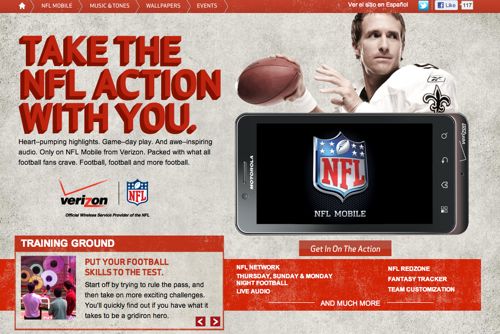 Here's the $64,000 question when it comes to watching NFL games live on your Verizon cell phone — how big a data plan will you need to watch live video of full games? Unfortunately, Verizon doesn't have a clear answer for you at this time — other than, it probably won't cost $64,000.
Tonight's season kickoff between Green Bay and New Orleans is one of the games available to view live on your Verizon smartphone using the NFL Mobile app, which Verizon is heavily promoting via Twitter and other advertising avenues. If you already have one of Verizon's smartphones the app will probably work, though you also need a Verizon Video subscription for an extra $10 a month added to whatever data plan you might have.
Guessing which data plan you will need, of course, is the all-important budgetary question — which could depend entirely on how many games you might want to watch on your phone. Since streaming video is about the biggest bandwidth-eating application around, anyone who wants to watch more than just a few minutes of live action per month should probably start with a baseline estimate of having to have Verizon's highest per-month data plan, which gives you 10 GB of data to work with for $80 per month.
But what if you can't afford the high-end plan and want to monitor how much data each live-game minute eats up? Unfortunately the answers you get from Verizon Wireless will vary depending on whether you are calling them live, using live chat or trying to decipher the answer via Verizon's web site usage calculator.
On the Verizon Wireless web site we found an interactive data calculator that seemed pretty easy to use — except it's unclear whether or not the NFL Mobile app uses high-definition or low-res video. Either way, you are going to chew up big chunks of data watching your team play live: According to the Verizon tool high-res streaming on a smartphone eats up approximately 400 MB per hour, while lo-res only uses 200 MB per hour.
But if you watch about five games in a month — with each game at roughly 3 hours that means 15 hours of video — you will eat up 5.86 GB of data, according to the Verizon calculator. But if you call Verizon and ask the same question, you get a much different answer: According to the phone rep we talked to, the internal literature on the NFL Mobile app tells them to tell you that it only uses 17 MB per 12 minutes of viewing — a total of 85 MB per hour, much lower than the calculator.
And if you ask the question in an online chat session — how much data will I need to watch one game — the rep tells you "I do apologize, but I really cannot say," and then offers to point you to the online calculator.
Our guess is that most cell-phone fans will use the Verizon NFL Mobile app to watch the popular NFL Network RedZone feature, which switches between in-progress games to show teams about to score or other significant plays. Especially until there is a clearer barometer of how much data you are using while watching, tuning in only to the RedZone might help keep your data bill from redlining as well.