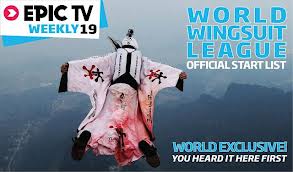 While the news of a new sports league often seems like old news being just an imitation of an existing sports league, the World Wingsuit League, that leaps into being tomorrow in China's Zhangjiajie National Forest Park seems assured of not being another knock off pro league.
The league is kicking off with the Tianmen Mountain Grand Prix Wingsuit Race where contestants will start the race by jumping off a 900-foot cliff, which you have to say is very different than how most sporting events begin.

The event is brought to us, not surprisingly, by Red Bull China, and will feature 16 athletes dressed in wingsuit who will not just leap off of a cliff but then complete a three quarter mile long obstacle course while flying. While maybe not quite the Red Bull Stratos experiment this looks like a real thrilling and exciting event.
They will fly around a course marker platform on the ground below that is roughly the size of a tennis court seconds after jumping, then swoop down the mountain and under the tramway cable finish line before opening their parachutes and landing at the mountain's foot.
Just doing the jump once seems like an award winning feat and that is really just the start. There will be two rounds of two runs each with the first being an elimination round with all 16 wingsuit pilots, then a finals round with the top eight. Gold, silver and bronze medals will be awarded to the top finishers. In addition, the Grand Prix champion will earn $20,000, 2nd place will win $10,000 and 3rd place will take home $5,000 while the fastest time gets a trophy.
From the images posted at its Facebook page it looks like in the practice runs the athletes are diving into a fog bank. I am pretty sure that there is no way you could get me to do that. So far the fastest round in the qualifying rounds was by James Boole and his time was 23.83 seconds
I think this looks like a great event and one that I would be very happy to watch but unfortunately it looks like it will only be broadcast live in China. The WWL said that it is working hard to get a live streaming video of the events that will take place on the 13-14 of this month, but so far no news. You can follow the league on its Facebook page. It also has a YouTube channel but it does not say if that will have live video.