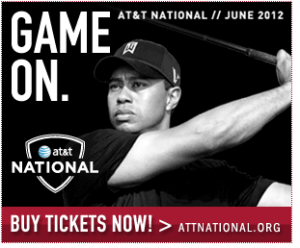 If Arnie has a tournament and so does Jack, why not Tiger? The one PGA Tour stop most closely associated with Woods — the AT&T National, at Congressional outside D.C. — has its charismatic host back playing this year, probably among the favorites to win so long as the U.S. Open weekend Tiger doesn't reappear.
There's no getting away from El Tigre this week — from the GAME ON pose in the AT&T National website ad which shows Tiger flashing his guns to the feature story on the PGA Tour website — it's all Tiger all the time, and since like Memorial he has won here before (most recently three years ago, the last time the National took place at Congressional) he feels comfortable, so he has to be included among the favorites. Lots of talent in the field this week, although U.S. Open champ Webb Simpson is taking the week off.
What may bear for some interesting viewing this weekend are reports that Congressional is set up at U.S. Open toughness, perhaps to try to reclaim some honor that was lost last year when Rory McIlroy made Congressional look like a Las Vegas pro-am while setting a U.S. Open scoring record. You could say the rain was to blame, making the greens easy to shoot for. But AP golf guru Doug Ferguson's piece Wednesday seems to hint there may be more bogeys than birdies outside our nation's capital city this weekend. If you are looking for a U.S. Open encore, tune in.
Here's where to follow the action:
AT&T NATIONAL
(all times Eastern)
TV COVERAGE
Thursday, June 28 — Golf Channel, 3 p.m. — 6 p.m.
Friday, June 29 — Golf Channel, 3 p.m. — 6 p.m.
Saturday, June 30 — CBS, 3 p.m. — 6 p.m.
Sunday, July 1 — CBS, 3 p.m. — 6:30 p.m.
RADIO
SIRIUS XM (Satellite)
12 p.m. — 6 p.m., Thursday-Saturday; 11 a.m. — 5 p.m., Sunday
ONLINE
No Live@ video this week — the PGA's live online video doesn't return until the Barclays in late August, so you will need to get your online fix from…
PGA SHOT TRACKER
If all you want is shots and distances (which can be addicting) get your fix via Shot Tracker, which is in the house for the AT&T National.
FACEBOOK PAGE
There's a nice shiny trophy on the AT&T National's Facebook page. Gotta like that.
TOP TWITTER FEEDS TO FOLLOW
The Tiger Woods Foundation is handling the official Twitter feed for the AT&T National. So far, mostly local stuff like scavenger hunts and donation links.
Geoff Shackelford — well known golf writer. If you're not following Geoff you are missing the online boat.
Golf Channel — official Golf Channel feed
@PGATOUR — official PGA Twitter feed
@StephanieWei — great golf writer who is a Twitter fiend. She said not only was she driving to the National, she was bringing her clubs.
Doug Ferguson is the lead golf writer for AP. Good Twitter insights that often aren't part of your wire-service lead.
WHAT'S THE COURSE LIKE?
No video fly-by (which is sometimes overrated) but a nice interactive hole by hole course guide of Congressional Country Club from the tourney's website. Here's the PGA Tour site's nuts and bolts.
WHO WON THIS THING LAST YEAR?
Nick Watney, in a tourney held at Aronimink outside Philadelphia. And Rory McIlroy won last year's U.S. Open, held at Congressional.
LOCAL FLAVOR
The AT&T National has a long tradition of honoring the military — check this page out for more info. The Washington Post has a lot of Tiger stories (surprise!) on its special golf page, which is helpfully titled "other sports." We blame the Nats.
FEDEX CUP LEADERS
1. Jason Dufner, 1,849 points
2. Bubba Watson, 1,617
3. Hunter Mahan, 1,572
4. Tiger Woods, 1,452
5. Matt Kuchar, 1,423
See the full standings for the FedEx Cup points list.
WORLD GOLF RANKINGS
1. Luke Donald; 2. Rory McIlroy; 3. Lee Westwood; 4. Tiger Woods; 5. Webb Simpson.
See the official World Golf Ranking list.