The Dolphins engineered a live Q&A session and broadcast the press conference with Gase that spanned Facebook, Twitter, Instagram, Periscope, Meerkat and Snapchat. This multi-platform event, the first of its kind in professional sports according to the Dolphins, included video and text chat and was intended to reach online fans and encourage engagement, said the event's planners, Jason Jenkins, senior vice president of communications and community affairs for the Dolphins, and Surf Melendez, managing director of content and creative services for the team.
Joined by his wife, Jennifer, and their three young children, Gase told fans that outside of football, he was most looking forward to the Miami weather. "It was 15 degrees when we left" Chicago, he said, where he'd been working as the Bears' offensive coordinator. By the end of the press conference, the Dolphins' Facebook video page registered more than 100,000 views, with a peak of approximately 11,700 simultaneous viewers, according to the Dolphins' press office.
"The whole point of [of the social-cast] was to make sure that we were using our brand and all our platforms in an innovative way," Melendez said. "Whenever we communicate or get the brand out there, we try to be innovative, this time with a live, social broadcast." The team also streamed Gase's introduction on its website and the Miami Dolphins official smartphone app; Melendez said the intention wasn't to bypass the general media but to complement them.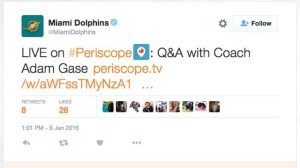 "We have the luxury of experimenting and innovating because our owner, Stephen Ross, and CEO [Tom Garfinkel] are there supporting us," Jenkins added. "This is a new place to be."
Technical challenges for new approaches
Editor's note: This excerpt is from our latest STADIUM TECH REPORT, our long-form PDF publication that combines in-depth stadium tech reports with news and analysis of the hottest topics in the world of stadium and large public venue tech deployments. Enjoy this feature, and then DOWNLOAD THE REPORT and read all the rest of the great info in this report!

A new place, and a challenging one, at least technically. Melendez said the first requirement was making sure they had enough smartphones for all the different platforms. "We needed the right people and the right devices to make sure we got the right shot, that the audio was good, that someone was posting and someone else was monitoring the feed," Melendez explained.

He and his department are constantly experimenting with these different technology to improve or fine-tune performance. "We had a dry run [for the Gase introduction]. But once it's go-time, things happen, like Wi-Fi," he laughed.

Still, the approach seemed to be a hit with Dolphins' fans. "As we were broadcasting live, the responses were, 'Wow, this is tremendous, they're getting me in there' [the Dolphins' offices]," Melendez said. "This is a new and fresh place to be."

In addition to reach, impressions and views, the Dolphins are closely monitoring how social media grows the brand and creates new revenue. Like most businesses, the Dolphins conduct regular lead-generation campaigns; most have been telephone-based, according to Melendez, but that is quickly changing.

"We've done a couple dry runs on social media, where you can put out a call to action and target a specific audience for leads," he said. "The response was 4-5 times as fruitful for good, qualified leads."

As a new medium, social media requires continuous education with the Dolphins' partners on how to use the platforms. "We then educate our sponsors that social does X, Y and Z and how that benefits them," Melendez said.

But the door for social education swings both ways, according to Vince Pannozzo, social media manager for the Dolphins. "We work with the team and with Facebook and Twitter directly to talk about personal brands as well as best practices," he said.

"Cheerleaders, too," Jenkins hastened to add.

The next big test of the Dolphins social strategy will come when the NFL's free agency begins in mid-March. "That's going to be a fun time to tune into what we're doing," Melendez said. "Generally we're taking a step back at the content we're creating overall and how we're broadcasting, quote unquote, because we're looking at how to serve up things that we used to do on more traditional avenues. It will look different next season."

Intelligent marketers of professional sports know they have to get their messaging to where the fans are – the stadium, their living rooms, and in today's world, their smartphones. Small wonder, then, that the NFL's Miami Dolphins chose multiple social media outlets in early January to introduce their new head coach, Adam Gase, in a multi-platform, social-cast event.