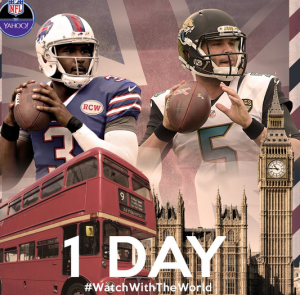 Sunday's groundbreaking live streaming of an NFL game — groundbreaking mainly because Yahoo is making it free to all types of viewers on basically any platform with an Internet connection — could be the biggest ever streamed sporting event ever, even though it's just the Jaguars vs. the Bills.
HERE IS THE YAHOO INFO PAGE ON HOW TO CONNECT
But it's also just as likely that there will be some issues with the delivery, so we asked Yahoo folks some questions about where fans can turn for help should they not be able to view the game.
Matt Edelman, a product manager at Yahoo, responded to our email questions with these answers:
MSR: Where can fans go (web, twitter, etc.) for technical support help if they have problems streaming the game?
Yahoo: Fans can tweet @YahooSports or @YahooCare for online help
MSR: Are there any browser or operating system requirements to view the game? Video player?
Yahoo: No – the game will be available across all digital devices (computers, phones, tablets and connected TVs) for free globally. You can also stream the game from our destination page.
MSR: What technical resources are in place to make sure the streaming isn't overloaded?
Yahoo: At Yahoo, we've been laser focused on delivering the NFL's premium content through a best-in class streaming experience, live, across devices. We've built a lot of tech and infrastructure in house to be able to deliver on the scale and quality of this event globally. We're also working with a number of partners to bring this experience to our users.
MSR: Is there any guess as to how many people will stream the event?
Yahoo: We're focused on making sure we bring an exceptional viewing experience to football fans around the world. This is the first time a live stream like this has ever been done with the NFL, and we're excited. (editor's note: Translation: We're not giving you a number!)
Good luck out there all you digital watchers… any problems with the stream, let us know as well by tweeting @paulkaps.