Editor's note: The following team-by-team capsule reports of MLB stadium technology deployments are an excerpt from our most recent Stadium Tech Report, THE BASEBALL (And Soccer!) ISSUE. To get all the capsules in one place as well as our featured reports, interviews and analysis, download your free copy of the full report today.
NL West
Reporting by Paul Kapustka
San Francisco Giants
AT&T Park
Seating Capacity: 41,503
Wi-Fi – Yes
DAS – Yes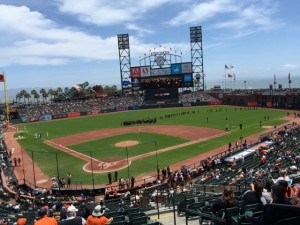 AT&T Park is nearing the completion of its latest Wi-Fi upgrade, which will see installation of under-the-seat access points in the upper decks. When it's done, Giants fans will have use of almost 1,700 Wi-Fi APs throughout the stadium. On the DAS side, T-Mobile is finally in the system, giving the park all of the four major wireless carriers on its AT&T neutral-host DAS, which uses gear from CommScope. We said it before and we will keep saying it: When it comes to baseball stadium connectivity, the San Francisco Giants set the standard.
Los Angeles Dodgers
Dodger Stadium
Seating Capacity: 56,000
Wi-Fi – Yes
DAS – Yes
A $100 million renovation two years ago and help from MLBAM last year should mean a solid Wi-Fi experience for fans at Dodger Stadium.
San Diego Padres
Petco Park
Seating Capacity: 42,455
Wi-Fi – Yes
DAS – Yes
Petco Park's existing Wi-Fi underwent upgrades over the offseason which should result in an even better experience for fans this year. Fans can now use the MLB At the Ballpark app to manage tickets, and to store e-cash for in-stadium purchases.
Arizona Diamondbacks
Chase Field
Seating Capacity: 49,003
Wi-Fi – Yes
DAS – Yes

One of the venues that has had Wi-Fi the longest, Chase Field is due to have its network upgraded this year as part of the MLB Wi-Fi program. That means even better service for Diamondbacks fans.
Colorado Rockies
Coors Field
Seating Capacity: 50,455
Wi-Fi – Yes
DAS – Yes
Fans at Coors Field are among the earliest beneficiaries of MLB's Wi-Fi everywhere program, as the install started last season is now complete.