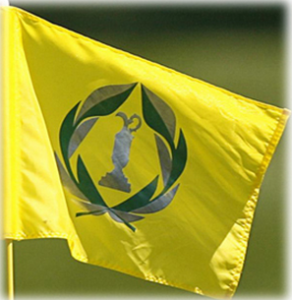 Did you miss us golf fans? Yes, MSR's weekly how to watch golf primer took a couple weeks off. No big deal, we just got busy and hey, we're just like the top golfers sometimes — can't be at every stop!
But we digress. On to the golf, at the Memorial which, thanks to its "ownership" by uber golf legend Jack Nicklaus this weekend gets mini-major status — kind of like, say, an NFL Divisional playoff game. Or round 2 of the NHL playoffs. However you categorize it, all the big names are in Ohio this weekend, though after watching Rory McIlroy struggle on Thursday he probably ain't going to be there for Saturday or Sunday.
Defending champ Tiger Woods? A 1-under on Thursday is just fine, even though it puts him 6 back of early leader Charl Schwartzel. Remember, Tiger does well on courses he likes (Torrey Pines, Bay Hill) and he's won here five times before. So if he's within three or four on Sunday, we still like his chances.
Are you feeling the U.S. Open yet? Two weeks away and we are already getting ready for Marion. It was cool to watch the Golf Channel replay of the 1971 playoff between Nicklaus and Lee Trevino — just loving to see all the new cool stuff GC is doing, including putting all its shows online. What a surprise, but not to us! Golf people love their online coverage, and Golf Channel is showing how smart it is by adding live online simulcasts and now studio shows too.
More coming soon about online golf, and about AT&T's new method of bringing cellular coverage to golf events — but not right now. Still busy with other stuff so enjoy the Memorial this weekend, especially online where there is more coverage than you think Broadcast is on CBS.
THE MEMORIAL
(all times Eastern)
TV COVERAGE
Friday, May 31 — Golf Channel, 2:30 p.m. — 6:30 p.m.
Saturday, June 1 — Golf Channel, 12:30 p.m. — 2:30 p.m.; CBS, 3 p.m. — 6 p.m.
Sunday, June 2 — Golf Channel, 12 p.m. — 2 p.m.; CBS, 2:30 p.m. — 6 p.m.
RADIO
SIRIUS XM (Satellite)
12 p.m. — 6 p.m., Thursday-Sunday. The live broadcasts are also available to subscribers on the SiriusXM Internet Radio App and online at SiriusXM.com.
NEW! PGA TOUR RADIO!
This a better deal for those not living in the U.S., because it's free internationally. Inside the U.S. you will pay (due to rights fees) $1.99 per event or $9.99 for the whole year. Gives you the CBS feed, audio version. Click here for more info and payment plans for your area.
ONLINE
The PGA's Live@ is back! The Memorial gets full "major-like" treatment, with simulcast coverage, featured groups and more. Thankfully the PGA has put all your options on this page so click there and see what's online, live.
PGA SHOT TRACKER
Get another online fix via Shot Tracker.
FACEBOOK PAGE
Here's The Memorial Facebook page.
TOP TWITTER FEEDS TO FOLLOW
The Memorial Twitter feed.
Geoff Shackelford — well known golf writer. If you're not following Geoff you are missing the online boat.
Golf Channel — official Golf Channel feed
@PGATOUR — official PGA Twitter feed
@StephanieWei — great golf writer who is a Twitter fiend. Now leading the Wei (hah!) with Google+ Hangouts during most tourneys.
Doug Ferguson is the lead golf writer for AP. Good Twitter insights that often aren't part of your wire-service lead.
Matt Ginella is a former Golf Digest writer now at Golf Channel. Your guide to the best golf course reviews, evar. Plus great columnist-type commentary on a regular basis.
WHAT'S THE COURSE LIKE?
Muirfield Village Golf Club — designed by Jack for tournament play. Here's the tourney site course page, which looks plain but has a lot of interactivity if you click around, video flybys and multiple hole vantage points. The Nicklaus design company page has some stunning photos as well.
LOCAL FLAVOR
The Columbus (Ohio) Dispatch has things pretty well nailed down with a special Memorial site. Interactive course map, video, features, it's all here. Hurray for newspapers.
WHO WON THIS THING LAST YEAR?
Tiger Woods. Or do you not remember this shot?