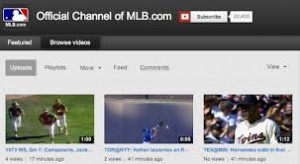 Major League Baseball via its Advanced Media (MLBAM) arm has joined with YouTube to provide an array of viewing options to fans that will be shown on the official MLB YouTube channel as they expand the 8 year old partnership.
For the most part the deal is simply an expansion of their current relationship but for baseball fans there are some additional perks for using the channel, and even better perks for fans that travel outside of MLB's main broadcast markets.
The updated MLB.com YouTube channel will include in-season highlights of every game played during the current season, with the highlights available approximately two days after the games conclusion. The site will now also feature videos from MLB.com's Baseball's Best Moments library.
For travelers on the road and inhabitants of select areas the offerings are even better, depending on where you are. It will be streaming for no charge two live games daily, but available for viewers only in areas that are outside of what MLB calls its core live video distribution areas that includes North America, Japan, Taiwan and South Korea.
MLBAM has been delivering live streaming for a decade and has been delivering full game archives and highlight reels online via YouTube-however only in Australia, Brazil, Japan, New Zealand and Russia since 2010 so the current deal will open up that coverage to much of the rest of the globe. I wonder what took it so long?