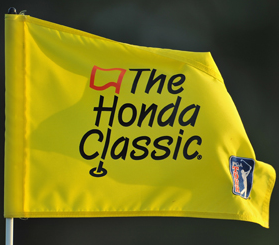 It's back to Florida time for the PGA Tour, and the stars are definitely out, with defending champ Rory McIlroy and Tiger Woods heading the full-force field. If you watch on TV or online, get ready for a full weekend of references to "The Bear Trap," the finishing three holes at the Jack Nicklaus-designed PGA National course in Palm Beach Gardens.
I'm not sure if the full press promo will move "The Bear Trap" into golf lore — personally I think it will take some real history, like a mano a mano showdown over the last three holes with some spectacular shots to really make the Bear Trap something real. But the good news is, with a full field and a high profile tourney we get the return of @Live, the PGA's own extra online coverage of a couple holes. Good stuff for those of us who watch more on the PC than on the couch.
THE HONDA CLASSIC
(all times Eastern)
TV COVERAGE
Thursday, Feb. 28 — Golf Channel, 3 p.m. — 6 p.m.
Friday, March 1 — Golf Channel, 3 p.m. — 6 p.m.
Saturday, March 2 — Golf Channel, 1 p.m. — 3 p.m.; NBC, 3 p.m. — 6 p.m.
Sunday, March 3 — Golf Channel, 1 p.m. — 3 p.m.; NBC, 3 p.m. — 6 p.m.
LIVE ONLINE COVERAGE
The PGA's @Live returns this week for the Honda Classic, with exclusive coverage of the par-5 third and par-4 ninth at PGA National. Here is the @Live link.
Thursday and Friday, Golf Channel TV simulcast coverage via PGATour.com and GolfChannel.com; Saturday and Sunday, NBC coverage via the PGA site and from NBC sites, which include Golf Channel. Right now only Comcast cable subscribers can watch live online video on weekdays. NOTE: If you are using the PGA Mobile app to watch the Golf Channel online video, be advised that it only works with iOS phones and with some (not all) Android phones. There is no fix planned for the immediate future.
RADIO
SIRIUS XM (Satellite) 12 p.m. to 6 p.m. all four days. The live broadcasts are also available to subscribers on the SiriusXM Internet Radio App and online at SiriusXM.com.
FACEBOOK PAGE
Here is the Honda Classic Facebook page.
TOP TWITTER FEEDS TO FOLLOW
Honda Classic Twitter feed.
Geoff Shackelford — well known golf writer. If you're not following Geoff you are missing the online boat.
Golf Channel — official Golf Channel feed
@PGATOUR — official PGA Twitter feed
@StephanieWei — great golf writer who is a Twitter fiend.
Doug Ferguson is the lead golf writer for AP. Good Twitter insights that often aren't part of your wire-service lead.
WHAT'S THE COURSE LIKE?
Here's an interactive look at the PGA Resort and Spa's Champion Course.
WHO WON THIS THING LAST TIME?
Rory McIlroy.