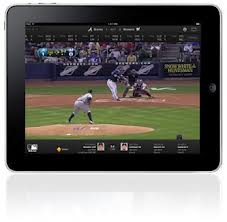 Major League Baseball expands its mobile ticket program that allows for seat upgrades from four teams to 13 as it continues to be at the forefront of utilizing mobile technology to connect with fans.
Last year we reported that Major League Baseball had adopted Apple's Passbook Ticket technology, a mobile ticket option that enables fans to upgrade seats. At the time MLB was rolling the program out in four ballparks across the nation as a test program.
In its most recent release of MLB AT Bat the ability to support Passbook, first available in Apple's iOS 6 release, has been expanded to 13 teams. The basic gist of the app is that a fan can use it to get a seat upgrade via a paperless ticket while at the ballpark.
It was initially rolled out at the end of last year with four teams participating: the San Francisco Giants, New York Mets, Boston Red Sox and Kansas City Royals. Additional teams that will now provide the service include the Minnesota Twins, Baltimore Orioles, Milwaukee Brewers, Oakland A's, Pittsburgh Pirates, Detroit Tigers and Chicago Cubs.
MLB executives, speaking at a fan event yesterday in New York City said that additional teams will be added during the season. It is also working to further integrate its teams with Facebook, Twitter and other social media. Last year's push with Instagram is an example of that.
Each team will handle the upgrades on an individual basis, allowing for differences in how teams want to upgrade fans. I suspect that this will also help spur teams to enhance their existing wireless infrastructure to handle this type of transaction.
As most fans know the wireless experience at sporting venues is often very unsatisfactory, with slow and dropped connections a commonplace event. The effort to build, maintain and expand a network is complex, but teams are increasingly making the effort due to how necessary it is now in a connected world.
While it has been reported that Apple's iOS users represent 70% of all MLB At Bat users, MLB recognizes that it will need to support the growing users of Android and other mobile operating systems. Its support for the BlackBerry this year is a sign of that but right now there is no announced cross platform support for this app.