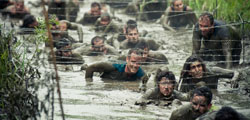 A buddy of mine wandered into the local pub a week ago and the left side of his face was a solid bruise. When I asked about it he said that it occurred during a Spartan Race that he had participated in over the weekend.
I really had no idea what he was talking about and after he explained it I realized that I had seen this type of event mentioned in Outside Magazine and elsewhere, I just had never figured that a programmer for IBM would be one of the participants.
The race is against the clock, against the set distance, and the obstacles that are in your path, which can vary from site to site. The obstacles can be mud, water, fire, people hitting you, barbed wire and apparently a host of others that the web site politely declines to spell out.
The layout of the race is a surprise, but you can participate in it as a team, allowing your friends the opportunity to get bruised and battered right alongside of you. At select races there is a cash prize for the top finishers.
I always sort of believed there was just a subset of athletes that participated around the globe, sort of like MLB but with barb wire added for flavor. On wandering over to the Spartan Race web site I was amazed at how many events, and participants, the sport has.
It appears to be a well thought out sport seeking to engage as many as want to try it. At many if not all of the races there are multiple events for different skill levels, thus keeping the interest of athletes that might not be ready for the big leagues of Spartan Racing.
The next race is this weekend, being held July 14 & 15 at the Blue Mountain Ski Area in Palmerton, Pa. with a track distance of 5 miles. However it appears that it is sold out so you will have to wait for the London event in a few weeks to try your hand. Images from past races can be found here.