It looks like the USGA was ready for questions about its cell phone policy, as executives from the country's governing body of golf were all on message Monday saying generally positive things about considering allowing cell phone use during tournament days in the future — while keeping its ban in place for this year's U.S. Open in San Francisco.
"We're comfortable with the current policy [of banning cell phones during competition days] but also looking about what to do for the future," said Joe Goode, managing director of communications for the USGA, in a quick press-room interview Monday.
The question of fans using cell phones on courses is a hot topic given the recent incident at the Memorial tourney in Ohio, where star player Phil Mickelson withdrew reportedly in part because of too many fans snapping cell-phone pictures while he was trying to golf. This year the PGA has allowed fans to have cell phones at all events for the first time. However, major tourney organizers like the Masters and the USGA (which conducts the U.S. Open) set their own rules, and for the Open this week fans won't even be allowed to bring cell phones to the course once competition starts on Thursday. On practice days like Monday fans can bring as big a camera as they want, apparently. And nobody seemed to care that I was snapping some photos with a cell phone, though maybe it's because I had a media badge around my neck.
Media and other VIP folks at the Open may bring cell phones in for use in approved areas like the press tent, but today we had to pass through metal detectors and get a special sticker for our cell phones to show they were approved devices, which seems a bit extreme. But it seems like Goode and other USGA types (including top boss Mike Davis, who told ESPN's Bob Harig about the same thing) are recognizing that cellular phones have already become as regular a pocket or purse companion as a wallet or car keys, and that all-out bans seem a bit stone age, especially to folks who rely on them for important communications to family members, to work or just for posts to Twitter.
What Goode seemed to be saying — and I am paraphrasing here — is that the USGA gets it, they're not going to ban phones forever, and they believe that there probably is a way to do things that works for fans as well as sensitive players.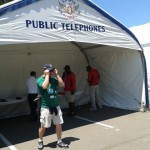 They're just not ready to say exactly what it is, though, so after Wednesday it'll be time for fans this year to leave their cell phones at home.
But hey, you can always use the phones at tents like this one to call people — but who uses a phone to make calls anymore? What they really need — and I think some PGA stops like Pebble Beach have already tried things like this — is special areas around the course with Wi-Fi access, where fans can get their online Jones without having to bug Phil or Bubba. Now if the Open here in San Francisco had a Twitter tent, that would be forward thinking and hometown cool. Maybe some Twitter folks can jump on BART and do some kind of foo-camp setup (with appropriate sponsoring dollars) before Thursday?
(All images credit Paul Kapustka, Mobile Sports Report; courtesy of The Olympic Club and the USGA.)