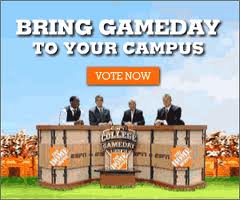 Any but the most casual college football fan has seen the throngs at the ESPN College Gameday sets, with fans in the background hoisting all sorts of signs, occasionally ones that are risqué or outright rude, and during the course of the week we see lots of ads for the program.
Now fans can influence where the ads will be shot in a clever little contest that ESPN and Facebook are hosting that enables fans to vote once a day for their school of choice. The winning school will have a Gameday ad shot on campus and it will include students from that school.There are a total of 120 schools involved and you can vote over at Facebook or ESPN GamedayVote.
I really like the contest on a number of levels. It should generate a great deal of attention between rival schools and rival contests. A quick look at some of the blogs out there already have battle cries that call for votes or else.
For ESPN it just brings additional attention to its football programming, and at a time that it is not usually on the minds of fans. It seems to have already taken off since the ESPN Vote page, and the Facebook one, as of this writing, has been overwhelmed and are down while it verifies the votes. I suspect that it will just get busier before this is all over.
The one flaw seems to be that the powers that be underestimated the popularity of the program. Looking at some of the posts on the Facebook page I noticed both accusations of cheating and complaints that votes were credited to the wrong team. I have to say that if I was in school and knew a hacker I might be so inclined to see if I could 'rock the vote.'
I would really love to know where the votes are coming from, not in terms of schools and conferences, but are more voters coming from the Facebook page or the ESPN site? ESPN's Facebook page has one million followers and so can be a tremendous force in this contest.